India
In Search of Snow Leopards and birds – homestay, Ladakh, India
Looking for the "Ghost of the Himalayas" staying in a village homestay
Please note that this tour is being run by our sister brand, WildWings.
The remote mountain valleys of Ladakh in northern India are probably the most reliable and beautiful place in the world to find the "Ghost of the Himalayas", the enigmatic Snow Leopard. We have been operating Snow Leopard trips here for many years, with 100% success.
This, the homestay trip, is new for 2023, and for eight nights we will be based in a warm, clean and comfortable homestay guesthouse in a tiny village in an area known for Snow Leopards. We will use a minibus, local contacts and expert guides to ensure a comfortable, successful trip. See the trip gallery.
The new extension for 2023, available on both of our Snow Leopard trips, is a remarkable opportunity to visit a newly opened area on the Changthang Plateau, right on the Tibetan border, a 5-day homestay-based extension, by minibus.
This trip is at the very end of winter, the best time of the year to see Snow Leopards, during their mating season. The scenery is spectacular, the birds iconic and near-mystic Snow Leopards are highly likely to be seen. From the moment you step off the plane in Leh, right until the end of your trip, you will be well looked after by some of the friendliest, warmest people on earth. The hotel in Leh is well appointed, the homestay warm and comfortable, and little walking is expected.
Our experienced local Ladakhi team of expert spotters, guides, cooks and helpers attend to our every need, and by staying in an area known for regular Snow Leopard sightings, our chances of seeing Snow Leopards are excellent.
The supporting cast of mammals and birds is truly special. Plus, we have a new, exciting 5-day extension to an area just opened up to visitors on the Tibetan border. The extension adds the opportunity to see Tibetan Gazelle, Pallas's Cat and Kiang (Tibetan Wild Ass) as well as an additional cast of iconic birds. The extension is also minibus based, staying at a clean and warm homestay/guesthouse.
Your leader, Dick Filby, first travelled to India in 1978, has been doing Snow Leopard trips to Ladakh since 2014, has never failed to see them, and will be thrilled to welcome you on this fantastic trip, one of his favourites.
Why book this trip with WildWings
We spend eight nights in the area for Snow Leopards thereby significantly improving your chances of a good encounter, and of photos.
WildWings has a 100% record for Snow Leopards on all our previous trips to Ladakh, thanks to our highly experienced team of local Ladakhi expert spotters.
We send a well-known, experienced leader (Dick Filby) with our groups.
This homestay-based trip utilises a comfortable lodge and avoids the need to camp.
Our extension visits an area very recently opened up to foreigners and where we have good chances to find Pallas's Cat, Kiang, Tibetan Gazelles, Grey Wolf and much more. Be amongst the first to visit this new and exciting area.
Two nights included in Leh at start of trip, to assist in acclimatising for a more comfortable trip.
Sat 11th February 2023
Thu 23rd February 2023
Tour Cost: 13 Days from £3245 excluding flights
Deposit: £800
Single Supp: £700
Group Size: 12
Leaders:
Dick Filby
Please see the 'tour info' tab for the cost of optional extras such as rooms with private facilities at our homestay.
What's Included?
WildWings Tour Leader
Services of local guides/spotters
3 nights in hotel in Leh with private facilities
8 nights at village homestay
All transport for the tour from/to Leh airport
National Park/wildlife fees
Three meals per day until breakfast on last day
Tea, coffee, potable water
Cost Excludes
All airfares, visa fees, travel insurance, personal items, tips, laundry, phone calls, all drinks other than tea, coffee, additional excursions, additional meals, additional costs incurred due to flight delays/cancellations, road closures or any other factors beyond our control.
Notes
The Land Only Tour Cost is the amount you will pay Limosa.
Despite the end of many pandemic restrictions, it is still proving extremely difficult to predict future flight prices and schedules. As a result, we have taken the decision to continue to price our holidays as excluding international flights.
To keep the process as simple as possible, we are working very closely with a dedicated agent at Travel Counsellors, Sacha Barbato, who is essentially now our "in house" flight consultant.
Sacha is a highly experienced independent ATOL bonded travel agent, and his contact details are as follows: sacha.barbato@travelcounsellors.com and 01603 360099
He will be able to advise you which flights we are recommending for each holiday and will be able to book these for you.
This will also sometimes give you the option to travel from a regional airport if you prefer.
Tour Highlights
explore the spectacular Himalayan province of Ladakh in Northern India with eight nights based in a small village at the best time of year to find Snow Leopard, we are almost certain to see them
join our team of expert spotters and guides in scanning from near the lodge and daily minibus trips to search for Snow Leopards and other wildlife
iconic mountain birds throughout the trip, from the extraordinary Ibisbill around Leh, to Himalayan Snowcock, Himalayan Griffon, Bearded Vulture (Lammergeier), Tibetan Partridge, Wallcreeper, Red-fronted Serin in the areas near our homestay
New post-trip minibus extension onto the Tibetan Plateau to a homestay to search for Pallas's Cat, Kiang, Tibetan Gazelle, Argali, Grey Wolf, Tibetan Fox and more great birds including Tibetan Snowcock, Tibetan Lark, Tibetan Sandgrouse, Blanford's Snowfinch and Ground Tit
Outline Itinerary
Fly to Delhi, (eg from UK) and overnight in an airport hotel

Fly from Delhi to Leh – birding around the hotel

Birding and mammal watching in the Indus Valley near Leh plus visit to Thikse Monastery

Depart Leh, drive to guesthouse

Exploring by minibus for Snow Leopards and other wildlife

Leave guesthouse and return to Leh

Depart Leh. Fly to Delhi and onwards, eg to UK

___________________________

Transfer to Changthang Plateau homestay, looking for wildlife enroute

Exploring Changthang Plateau for mammals and birds

Return to Leh, looking for wildlife enroute

Depart Leh. Fly to Delhi and onwards, eg to UK
Overview
Itinerary
Trip Info
Trip Reports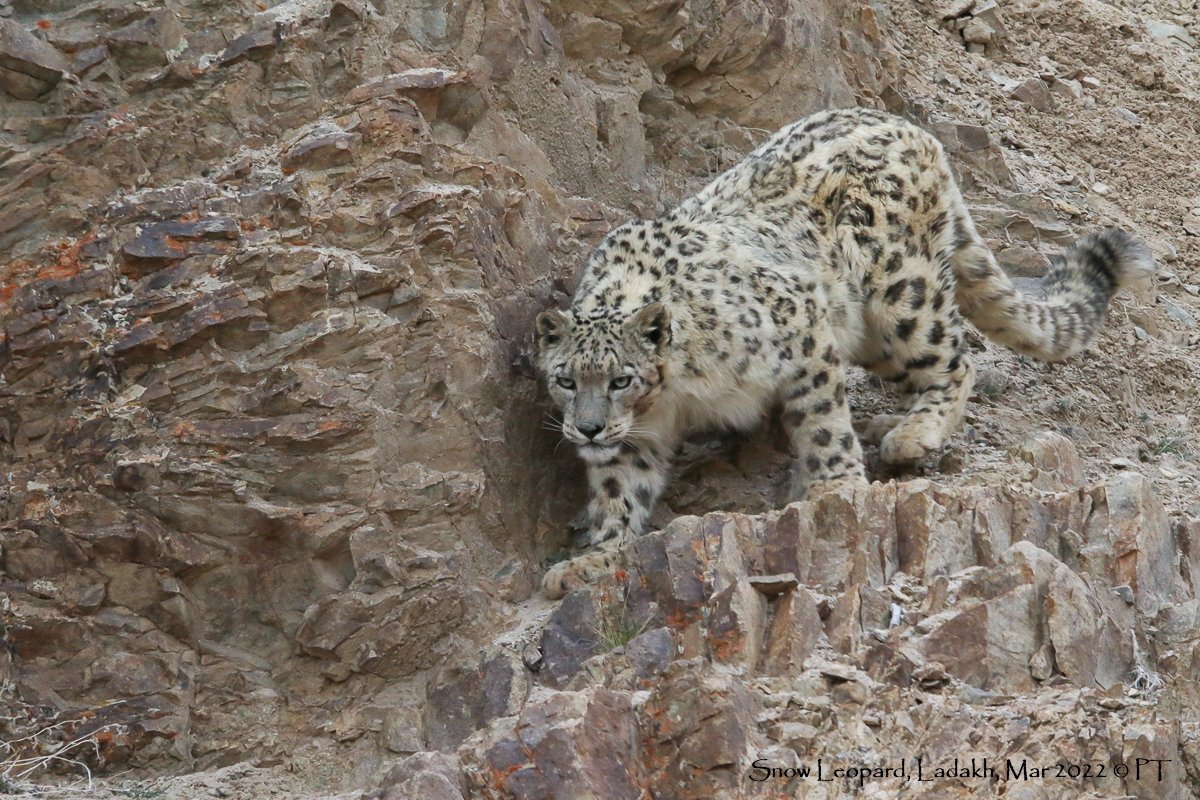 The remote and starkly beautiful mountains and valleys of Ladakh lie at the Tibetan border, close to the Karakoram range, beyond the high Himalayas in far northwestern India. With a population density averaging less than two people per square kilometre, this is a very sparsely inhabited land which in general is little impacted by humans.
Ladakh is cut off by road from the rest of India for around five months every year due to winter snows on the high mountain passes to the south, but as Ladakh itself lies in the 'rain-shadow' of the high Himalaya, it receives very little precipitation, resulting in cold but dry winters. The low humidity makes temperatures much more tolerable than similar temperatures in places such as the UK.
In Ladakh, the majority of the residents are Tibetan Buddhists and in rural areas many still live in traditional mud and stone buildings adorned with prayer flags. Scattered small communities have a few terraced fields of wheat or barley, as well as some grazing animals, yaks, cows, and donkeys that every evening need to return to the shelter of buildings in the village to avoid the attentions of the "Ghost of the Himalayas", the enigmatic and omnipresent Snow Leopard. Away from the irrigated lower river valleys, the vast majority of this beautiful land is almost entirely devoid of people.
Our trip starts in Leh, the capital of Ladakh. It is a small town in the Indus valley, where, at the timing of our visit, life is generally sedate and much slower paced than in almost any other town on the Subcontinent. We will spend two nights in a comfortable hotel, acclimatising and enjoying excursions by minibus, looking for wildlife along the banks of the Indus River, searching for iconic birds such as Ibisbill, Solitary Snipe and Güldenstädt's (White-winged) Redstart and visiting one of many famous monasteries, where our local guide will explain Buddhist traditions and beliefs. All the while the mountains and valleys surrounding the Indus provide a dramatic backdrop and beckon us.
After two days exploring around Leh, we will head into the hills for an eight night stay in our comfortable homestay guesthouse, in a village, close to an area where we have always previously encountered Snow Leopards. With access by minibus to viewpoints of sweeping vistas of adjacent valleys and hillsides, we are perfectly positioned.
Key to our success is our expert team of local guides, excellent spotters who are all well acquainted with these cats and their secretive habits. Our team will additionally draw on their extensive network of local contacts.
As is often the case with wild cats, Snow Leopards frequently snooze for several hours during the day, so when one is spotted it can result in prolonged viewing opportunities, especially as this is the mating season, when pairs can bond for several days.
Our visit is carefully timed to maximise our chances of finding this elusive feline and we will be there during the mating season and at the very end of winter/onset of Spring - the coldest days of winter will have passed. The winter snows, such as they are in this arid land, are still close to their maximum extent which will have driven the Snow Leopards and their main prey, the Blue Sheep, to lower, almost snow free elevation, close to our homestay. With both species concentrated in a significantly smaller area than in summer, this gives us much better opportunities to find them.
Additionally, because it is the mating season, males will advertise their presence by calling loudly, their cries occasionally echoing around the valley as they call from a ridge, looking for a potential mate.
Your tour leader, Dick Filby, brings his Swarovski spotting scope offering up to 70x magnification for the best possible Snow Leopard views for everyone. The dry cool air is very clear, so heat haze is limited and 'scope views' are usually very satisfying.
You may wish to bring your own telescope, in order to maximise your enjoyment of every day. Having your own scope would give you much more opportunity to participate whilst we are searching – indeed, who doesn't want to be the first to spot one? It will also give you more prolonged viewing opportunities once a Snow Leopard is on view.
As the sun starts to sink, and the viewing conditions return to optimal just as the Snow Leopards typically arise from their afternoon nap, everyone will want to be watching at the moment that a Snow Leopard yawns wide, stretches, stands up and sets off to hunt.
You can reasonably expect there to be chances to photograph Snow Leopard, although as most sightings are at quite some range, digi-scoping, or using a big lens and converters are normally the best options. Sometimes however, we get much closer views.
We don't plan on much walking, indeed we will generally be driving from one viewpoint to another, but the need may arise to have to walk to get better views.
We are also likely to find Ladakh Urial (Red Sheep) and Asiatic Ibex as well as Grey Wolf, other mammals and some iconic birds.
After eight nights based at our homestay, we drive back to Leh for a final night in our comfortable hotel as the main tour concludes.
There follows an optional five-night extension to the Changthang Plateau by minibus, based at a clean, warm and clean homestay guesthouse close to the Tibetan border, giving us the opportunity of several species of iconic mammal and bird not available on the first part of the trip.
Our principle target mammals on the extension are the dramatic looking Kiang (the largest species of wild ass), the delightful Pallas's Cat, and delicate Tibetan Gazelles. We have good opportunities to see all three: Kiang are found here in good numbers, Pallas's Cats are seen regularly, and this is the core area for the remaining Indian population of Tibetan Gazelle, a diminutive high-altitude member of the antelope family.
The supporting cast on the extension includes Grey Wolf, Tibetan Fox, Ladakh Pika, as well as another chance for Snow Leopard, and a fine selection of birds including iconic specialities such as Tibetan Snowcock, Tibetan Sandgrouse, Tibetan Lark, Ground Tit (Hume's Groundpecker), the delightful Blanford's and Black-winged Snowfinches, Brandt's (Black-headed) Mountain Finch and Great Rosefinch. On our journey back to Leh, if we have not seen them already, we can make a diversion to an area where we have previously enjoyed good success finding Argali – the world's largest wild sheep, and Tibetan Snowcock.
Potential Mammals (selected only)
Main Trip: Snow Leopard, Eurasian Lynx, Grey Wolf, Red Fox, Greater Blue Sheep (Bharal), Asiatic (Siberian) Ibex, Ladakh Urial (Red Sheep), Mountain Weasel, Woolly Hare and Large-eared Pika.
Extension Snow Leopard, Grey Wolf, Tibetan (Sand) Fox, Kiang (Tibetan Wild Ass), Tibetan Argali, Greater Blue Sheep (Bharal), Ladakh Urial (Red Sheep), Mountain Weasel, Woolly Hare, Plateau/Ladakh Pika, Stolizcka's Mountain Vole.
Potential Birds (selected only)
Main Trip: Himalayan Snowcock, Tibetan Partridge, Chukar, Hill Pigeon, Snow Pigeon, Eurasian Eagle Owl, Solitary Snipe, Ibisbill, Black-eared Kite, Bearded Vulture (Lammergeier), Himalayan Griffon, Golden Eagle, Upland Buzzard, Saker, Red-billed Chough, Yellow-billed (Alpine) Chough, Brown Dipper, Blue Whistling Thrush, Black-throated Thrush, Güldenstädt's (White-winged) Redstart, White-capped Redstart, Wallcreeper, Cinereous Tit, White-browed (Stoliczka's) Tit-Warbler, Black-winged Snowfinch, Robin Accentor, Brown Accentor, Red-fronted Serin, Brandt's Mountain-Finch, Mongolian Finch and Great Rosefinch
Extension, additionally to main trip: Tibetan Snowcock, Tibetan Sandgrouse, Ruddy Shelduck, Ground Tit (Hume's Groundpecker), Tibetan Lark, Blanford's Snowfinch as well as many of the species on the main trip.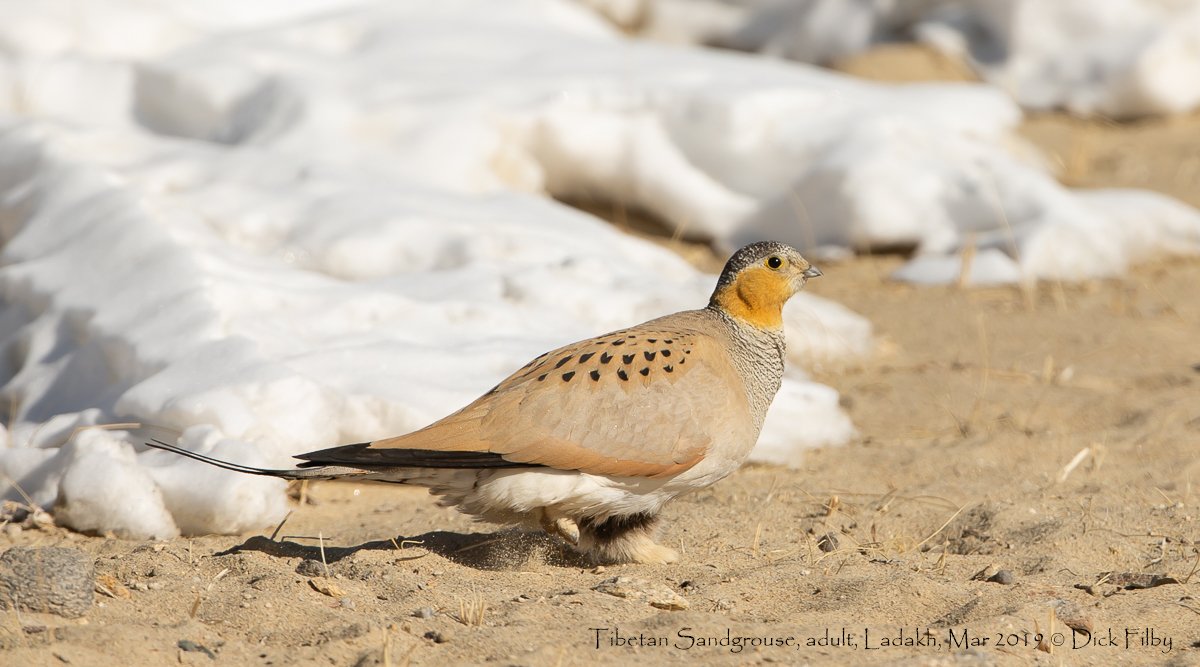 MAIN TOUR: 11-23 February 2023
Day 1: Depart (eg from UK) on flight to Delhi and overnight at airport hotel
Day 2: Fly from Delhi to Leh
The tour starts at Leh airport in the morning, as all flights from Delhi are scheduled to arrive early in the day, normally offering spectacular and extensive panoramic vistas of the Himalayas. We will transfer to our hotel, about 20 minutes from the airport, for a two-night stay.
Leh is at an altitude of around 11,400 ft (3,475m), about the same as many of the popular ski runs in Colorado, so the reduced oxygen level needs adjusting to and we will have a gentle first day, during which we will start our exploration of the Leh area with birding around the hotel grounds and nearby gardens, fields and streams.
With prayer flags to be seen everywhere, and monasteries sitting atop small hillocks, it is often said that this part of India is very much like Tibet used to be, before the Chinese took control and the Dalai Lama fled to India. Overnight Leh
Day 3: Birding and mammal watching in the Indus Valley near Leh plus visit to Thikse Monastery
We will spend the day with gentle excursions by minibus looking for wildlife along the banks of the Indus River and the opportunity to visit Thikse Monastery, perched atop a low hill, citadel-like, and often likened to the winter palace of the Dalai Lamas, the Potala, in Lhasa, Tibet. Throughout the Leh area, there are several monasteries and the prayer wheels, chortens, statues of Buddha and prayer flags of Tibetan Buddhism abound.
Against this backdrop, in the cultivated areas close to the river Indus, and along the river itself we will seek several iconic bird, including the extraordinary Ibisbill which is undoubtedly one of the world's more unusual looking waders with its grey and black head and brilliant red decurved bill, the elusive and well camouflaged Solitary Snipe, and enjoy hordes of the dramatic and delightful Güldenstädt's (White-winged) Redstarts.
Other birds to be found here include Black-eared Kite, Northern Goshawk, Upland Buzzard, Cinereous Tit, Blue Whistling Thrush, White-capped Redstart, Black-throated Thrush, Brown and Robin Accentors, White Wagtail of the striking form personata, aka "Masked Wagtail", and Mongolian Finch.
On our planned visit to the amazing Thikse Monastery we will learn a little about Tibetan Buddhist culture, see first-hand the extraordinary buildings and artwork, and will likely encounter various birds around the buildings such as Red-billed Chough, or see a Lammergeier, Himalayan Griffon or Golden Eagle soaring overhead.
All the while we can see Hemis National Park rising from the opposite side of the Indus valley. The lure of the hills is irresistible. The search for Snow Leopard beckons us. Overnight Leh
Day 4: Depart Leh, drive to homestay/guesthouse
After breakfast, we will drive to our homestay lodge, which is at a very similar altitude to the hotel. It is about a three-hour drive, but we will be sure to stop for roadside wildlife, and dramatic scenery photos, including a viewpoint high above the deep gorge along the Indus prior close to its confluence with the Zanskar river.
Our cook team will have gone in advance, and a three-course hot lunch awaits us, although if we receive intelligence from our contacts that a Snow Leopard has been sighted, we will be calling the cook team and asking them to bring lunch to us!
Once at the homestay, and after settling in, if there is no Snow Leopard on view, or news of one, the rest of the day will likely be spent at a vantage point very close-by, looking for Snow Leopards, other mammals and birds, and enjoying afternoon tea brought to us before returning for dinner. Overnight at guesthouse/homestay
Days 5-11: Exploring by road for Snow Leopards and other wildlife
We have seven full days to look for Snow Leopards and with around 12 hours of daylight, we will have plenty of time to both look for wildlife and get a good night's rest. At dawn, our expert spotters will be out looking from a vantage point very close to our guesthouse, scanning nearby fields and slopes.
The typical day will start with hot tea/coffee and biscuits as we join the team. You have the option to join them or take your time and have a more leisurely start.
A hearty breakfast will either be served in the dining room, or, if we are watching Snow Leopard(s), or following up on hot news, then the team can bring it to us "in-the-field". Afterwards, if a Snow Leopard has not yet been spotted, we will drive to carry on searching for them, typically further along the valley, or to an adjacent valley.
Whilst the daily search will generally involve only a little walking, the amount of walking you choose to do each day is entirely up to you. You may, if you wish, choose walk a little whenever we stop, and there is always the option to walk around the village and adjacent fields too. However, when a Snow Leopard is spotted, it may be necessary to walk to a better vantage position for viewing which might involve steeper walking for short distances.
On at least one day, we intend to visit a different traditional home, maybe drink Tibetan tea, or take our lunch there, and have the chance to purchase locally made souvenirs, such as a felt Snow Leopard, made with naturally coloured wool and hand spun yarn.
Other mammals that are found here include Lynx, Woolly Hare, Grey Wolf, Mountain Weasel, Large-eared Pika and plenty of the Snow Leopards' favourite prey, Blue Sheep (Bharal).
There are some great birds to be seen too, including Himalayan Snowcock, Tibetan Partridge, Chukar, Bearded Vulture (Lammergeier), Himalayan Griffon, Golden Eagle, Hill Pigeon, Red-billed and Yellow-billed Choughs, Wallcreeper, the extraordinary, purplish-coloured White-browed (Stoliczka's) Tit-Warbler, Brown Dipper, Brown and Robin Accentors, Red-fronted Serin and Great and Streaked Rosefinches.
Whenever we are away from the homestay, our staff will bring us hot tea, coffee and a snack, mid-morning and mid-afternoon, whilst in the middle of the day, we will also get a hot lunch delivered to wherever we are. Evening meals in the homestay are a sociable time, as we recap on the day's sightings before heading to bed. Seven further nights at the homestay/guesthouse
Day 12: Leave homestay and return to Leh
After breakfast and a last look for Snow Leopards, we head back to Leh. Overnight Leh
Day 13: Depart Leh / or start extension
After breakfast, anyone not joining the extension will have a short transfer to the airport from where it is an approximately 1 hour 15 mins flight back to Delhi, for onward connections to international flights, eg back to the UK, arriving at Heathrow the same evening.
---
EXTENSION: 23-28 February 2023
Day 14: Transfer to Changthang Plateau, looking for wildlife enroute
Having said goodbye to anyone not joining the extension, we will leave Leh after breakfast and drive southeast up the mighty Indus River valley towards its source in Tibet. This road, much of it recently improved, follows the river for the most part and whilst it occasionally detours to avoid deep gorges, it does not go over any high mountain passes.
The Indus valley is a spectacular drive and we plan to make multiple stops, for wildlife, for photos, and for lunch. We will be looking for Ladakh Urial, Solitary Snipe, Brown Dipper, Wallcreeper, Tibetan Lark and Great Rosefinch. It is likely that we will see our first Kiang (Tibetan Wild Ass) as we reach the Changthang Plateau.
Once we near the Tibetan border, by late afternoon, we will begin our quest in earnest for the special birds and mammals of this region. Night at homestay/guesthouse
Days 15-17: Exploring the Changthang Plateau
We have three full days to explore this area and its sweeping panoramas that looks very different to the mountain valleys around Leh and Hemis National Park.
Using our homestay as a base and the minibus for transport, we will search the plains of the Changthang Plateau and adjacent hillsides for the specialist mammals that are regularly seen here including Pallas's Cat, Tibetan Gazelle, Grey Wolf, Tibetan Fox, Argali - the largest species of wild sheep in the world and Kiang (Tibetan Wild Ass).
In addition this area hosts several iconic species of birds, including Tibetan Snowcock, Ruddy Shelduck, Tibetan Sandgrouse, Ground Tit - formerly known as Hume's Groundpecker, Upland Buzzard, Eagle Owl of the Himalayan form hemachalanus, Saker Falcon, Horned Lark, Tibetan Lark, Blanford's and Black-winged Snowfinches, Black-headed Mountain Finch and Great Rosefinch. If Spring is advanced, we may again see Bar-headed Geese at any open water, and if we are very lucky, an early Black-necked Crane.
As with our time spent on the main part of the trip, we will make use of expert Ladakhi spotters who know the habits of the animals, and have local contacts, thereby hugely increasing our chances of a successful visit.
We plan to keep our extension flexible and if we have not found all our main targets from our first base, we may switch locations partway through, moving to a different, basic lodge about four hours drive away. Nights at homestay/lodge
Day 18: Return to Leh
After some final time in the field, we will leave our accommodation after breakfast, and drive back to Leh along the spectacular Indus valley. We will make stops as we travel, taking the opportunity to enjoy the scenery and wildlife opportunities, as well as a lunch stop. Night in Leh
Day 19: Depart Leh / arrive home (eg UK)
After breakfast it is a short transfer to the airport from where it is an approximately 1 hour 15 mins flight back to Delhi, and onward connections to international flights, eg back to the UK, arriving at Heathrow the same evening.
---
Extension Costs:
The extension costs £995 with a single supplement of £375
The extension includes 1 night's hotel room in Leh with private facilities, transport by minibus throughout, accommodation at homestay on Changthang Plateau, national park/wildlife fees, three meals per day until breakfast on last day in Leh, tea, coffee, potable water, local guides/spotters.
---
Optional extras on main tour
The standard cost of the main tour includes rooms with shared facilities at our homestay. There are, however, a few rooms with private facilities and these are available at a supplement of £400 per room (ie for couples or those wanting a single room).
The single room supplement for the main tour is £700 (shared facilities at the homestay but with private facilities in Leh).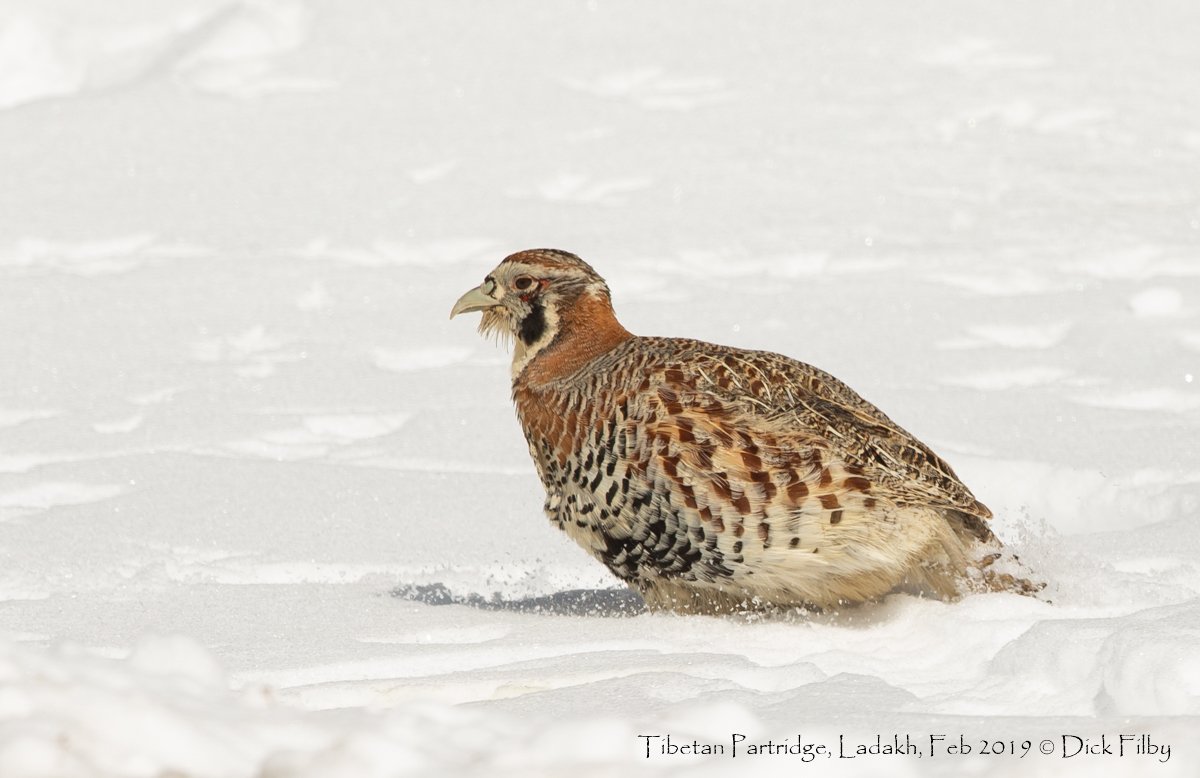 WHAT TO EXPECT
Unparalleled scenery, exceedingly high chances to see Snow Leopard as well as a host of other mammals and great birds, a warm and well appointed hotel in Leh, warm, clean, comfortable homestay and minibus-based searching at the best time of year to see Snow Leopards, an extension based in a clean and comfortable homestay guesthouse, and an exceedingly friendly expert team to look after us.
The objective is to maximise our chances of seeing Snow Leopards, and with eight nights being based in a great area for them, where we have seen them before, and they continue to be regularly seen, we have an excellent chance of success,.
We will have an experienced team of guides, spotters and contacts throughout our stay, as well as our great cook-team who will provide us freshly cooked, hearty hot meals three times a day, as well as tea and snacks mornings and afternoons.
It is not a luxury trip, nor is it truly rugged, it is all explained below.
ACCOMMODATION
Our Hotel in Leh is comfortable, with spacious rooms, ensuite facilities, running hot and cold water, central heating mornings and evenings, electricity and internet. Most of this can be expected, but not 100% guaranteed. B ottled water is available for drinking, as well as hot tea and coffee, and we will enjoy freshly cooked meals in the hotel dining room.
The main trip Homestay Guesthouse is remarkably comfortable, heated, with full service, and we will be very well looked after, with our team of cooks and helpers attending to our needs, provide us three hearty cooked meals a day, plus tea, coffee and snacks, wherever we get to.
The Homestay Guesthouse on the extension is simple, but warm, clean and comfortable, and we will have our own cook team to provide us three cooked meals a day. Depending upon our success, and on local information, we may opt to spend one night at a more basic lodge.
SHOWERS
Hot showers will be available throughout the trip.
FOOD
Throughout the trip we will have plenty of hearty food, freshly prepared by our own excellent cook team, except at the hotel in Leh, where similar food is prepared by the hotel staff. Special diets can be catered for, so long as requested in advance, at the time of booking.
Set meals, with multiple dishes and courses, are served three times a day, featuring Western, Indian, Chinese, Tibetan or Ladakhi dishes, with the latter only gently spiced, but warm in Celsius terms. Hot sauces and chilli will also be available. Fresh eggs, chicken, pulses and cheese will form a significant part of our dining, alongside homemade soups, potatoes, rice or pasta, fresh baked local breads, local jams and porridge. Even though Ladakh is cut off by road for the entire winter, we will have fresh vegetables and fruits, as well as dried Ladakhi apricots.
At the homestay we eat in a heated dining room, where we will be served hot meals at breakfast and dinner, and lunch too, although the latter is as likely to be a picnic in the field, with hot soup, a hot main course, dessert and tea/coffee, brought to us no matter where we have driven to.
Additionally, tea, coffee and snacks are available throughout the day at the hotel, and the homestay. When we are out in the field we will have hot tea/coffee and snacks mid-morning and again mid-afternoon.
WEATHER / CLIMATE
The trip is timed at the very end of winter/start of Spring. Ladakh lies in the rain shadow of the Himalayas and has a very dry climate. The lack of humidity ensures that the temperatures here are remarkably more tolerable than when similar temperatures are experienced in most other parts of the world.
Daytime temperatures at the time of our visit will be cool, with highs around freezing, up to 10C (50F) or more, but feeling much warmer in the sun. Overnight low temperatures are mostly in the range -15C to -10C (5F to 15F), occasionally colder, exceptionally down to around -25°C (-15°F). As above, the very dry climate ensures that such temperatures are significantly more tolerable than similar temperatures in moister climates, eg the UK.
Clear conditions will likely be interspersed with occasional cloudier, even overcast days. We are likely to get a light powdery snowfall at some point, around 2-4cm (1"-2"). Given that Ladakh has an entire annual precipitation of only c.10cm (4") of rain equivalent, heavier falls are very infrequent. Some walking in a thin layer of lying snow is to be expected.
Generally there is very little wind, although a slight breeze is not unusual in the afternoons.
It is important to bring a good down jacket, good, roomy walking boots, and a selection of layers to shed as the days warm up.
COMMUNICATIONS
Expect internet service in Leh, but nowhere else on the trip. We have, however, experienced the internet down for days on end in the past, due to a landslide taking out the main fibre optic cable. Foreign mobile phones only work in Ladakh if you have an Indian SIM card. There is limited to no mobile signal in rural area, but we are also able to communicate with the outside world in case of emergency by utilising landlines in most villages.
PASSPORT
Your passport needs to be valid for a full six months after the end of the trip.
An Indian Visa is required and the WildWings office will provide the additional information you will need to get this well in advance of the trip departure.
FLIGHTS
The itinerary shows the dates that you can fly to/from the UK. All our trips are priced "land-only", giving you the freedom to travel from your own choice of airport, on whatever dates and routing suits you. You are free to book your own flights or use our recommended ATOL bonded agency, and whichever you choose to do, we will be very pleased to assist you.
That said, we strongly recommend that you book your flights for this trip via an agency, rather than doing them yourself, because, in the event of any schedule changes, flight delays or cancellations whilst you are in Ladakh, you are highly unlikely to be able to deal with the airline personally due to lack of internet and phone service. Nobody else can deal with the airline on your behalf, unless you booked your flight through a travel agency.
Our highly experienced independent travel agent Sacha Barbato, of "Travel Counsellors", an ATOL bonded company, is briefed on suitable flights for this trip. Additionally, as noted, in the event of any schedule changes etc whilst you are away, the airline will notify Travel Counsellors and Sacha will be able to deal with them on your behalf.
Sacha Barbato, Travel Counsellors Ltd, 01603 360099 sacha.barbato@travelcounsellors.com
NOTE: The only way to get to Leh in the winter is to fly from Delhi to Leh airport, IXL. It is a short, approximately one hour and 15 minutes flight on a modern jet, and service is offered by multiple airlines. The airstrip in Leh is a large military facility, but flights are occasionally delayed or cancelled due to visibility issues including fog or snow.
Flights from Delhi to Leh have traditionally operated very early in the morning only, and we are not expecting that to change. You may, therefore, wish to stay at an airport hotel in Delhi on your outbound journey. Conversely, at the end of your trip, early morning flight times Leh-Delhi generally allow for same-day connections in Delhi including, for example, onto direct flights back to the UK, arriving in the UK on the same day that you leave Leh.
FITNESS LEVEL
This trip requires the ability to walk short to medium distances on uneven terrain, mainly in river valleys. Walking uphill will be taken much more slowly due to the altitude, but this is not an extreme high altitude trip. Most ski holidays in North America involve similar altitudes.
HEALTH
There are no compulsory vaccinations required at the time of writing (except proof of covid vaccination), and at the time of year that we are travelling, there are no mosquitoes in Ladakh. However, please consult your medical professional for complete and up-to-date advice.
Altitude: The majority of the tour is between 11,500 to 13,000 feet (3,500-4,000 metres) above sea level, slightly higher on the extension. This is not dissimilar to the top of many popular ski-resorts in Colorado and most people do not have any problem acclimatising if you are strict about no exercise of any sort for the first 24 hours after you arrive. That is why we specifically have two nights in Leh at the start of our trip, and it has always worked out OK. If you have not travelled to such altitudes before, and even if you have, you may wish to talk to your doctor about how to avoid altitude sickness, and whether Acetazolamide (Diamox) may be appropriate or useful for you.
QUESTIONS
If you have any questions please do not hesitate to either email or phone the office and we will be very happy to chat about this trip, or have tour leader Dick Filby call you back.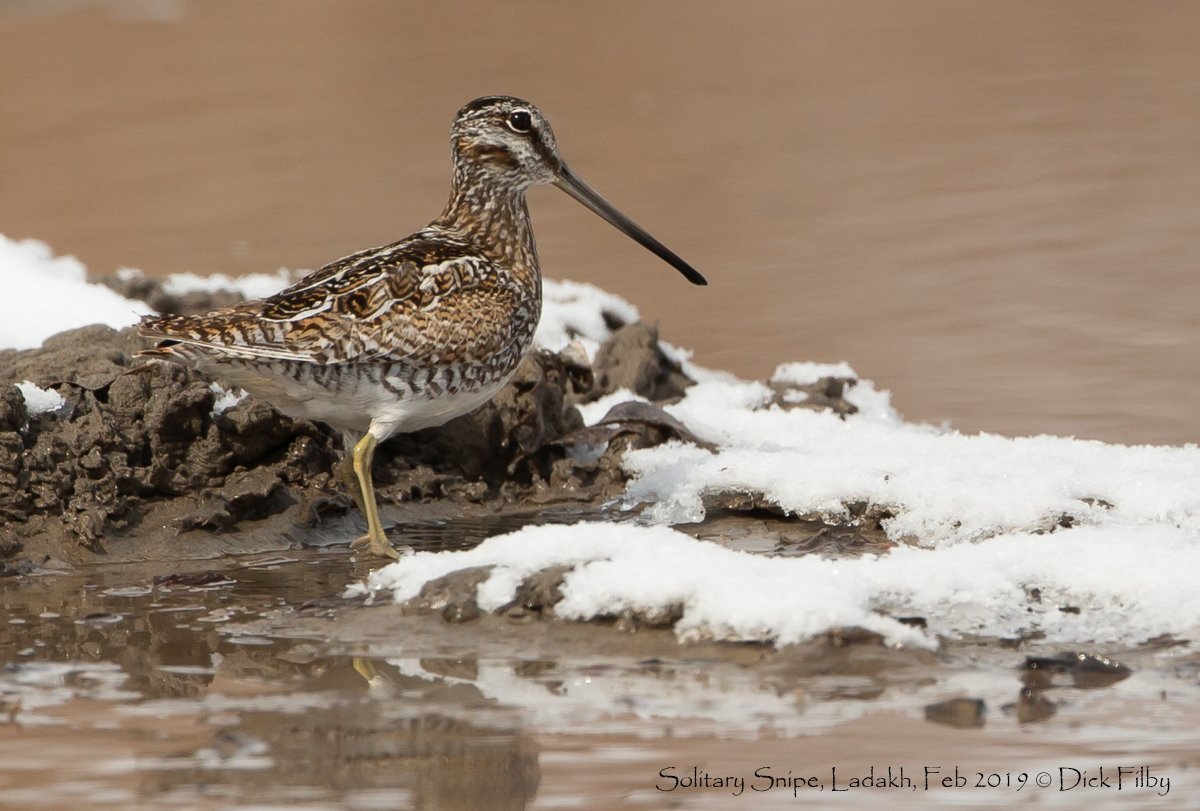 Tour Gallery
Ladakh
View a gallery of images for this tour below, click on an image to view as full size with caption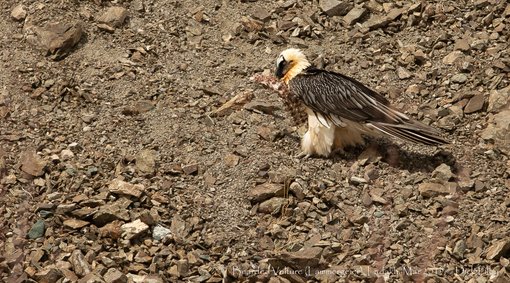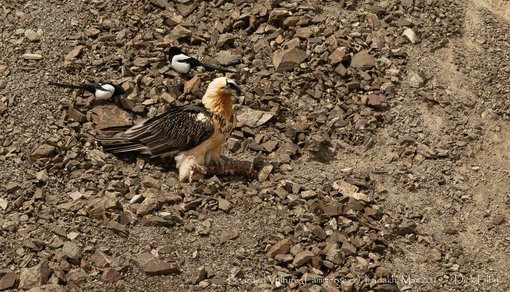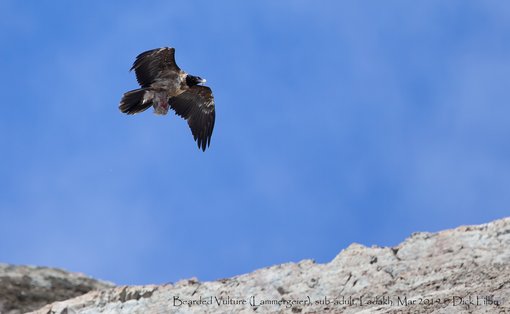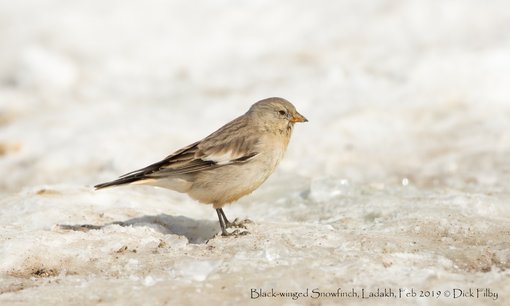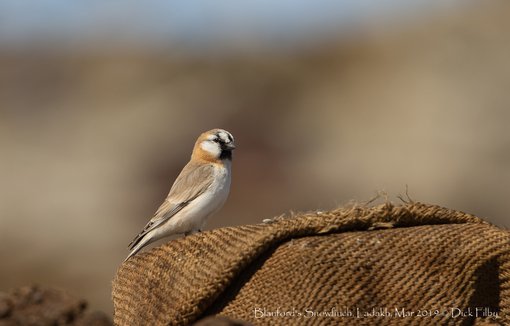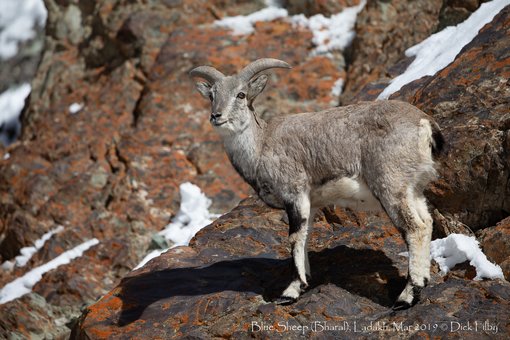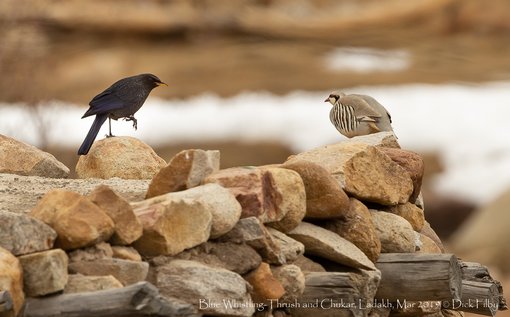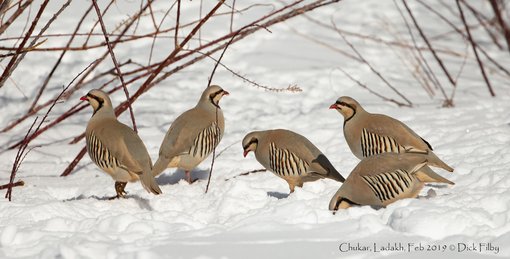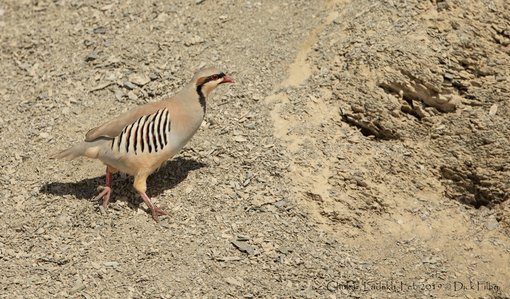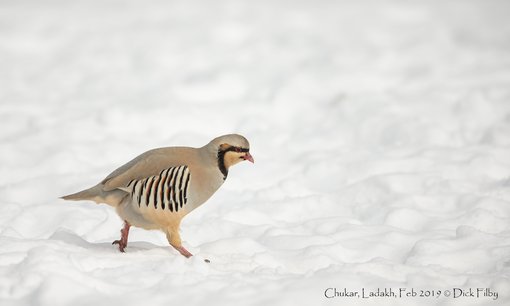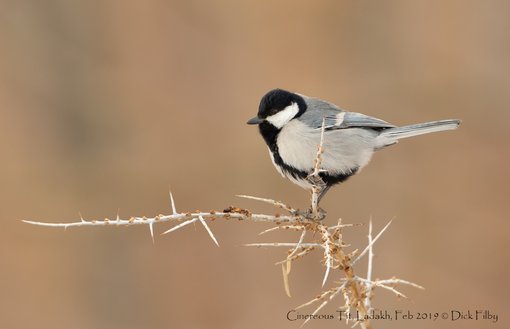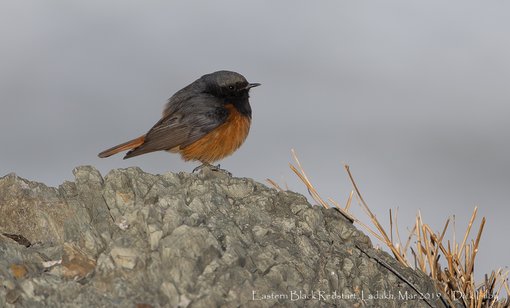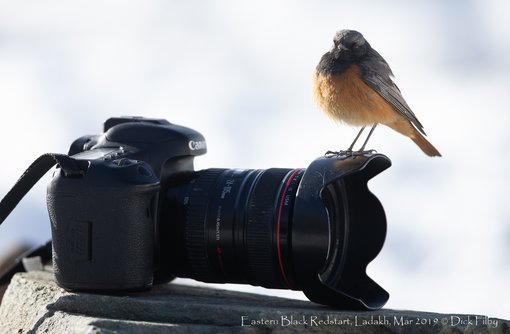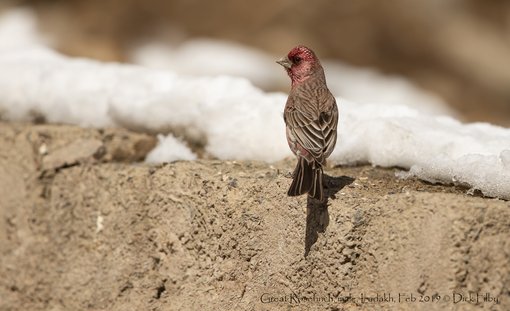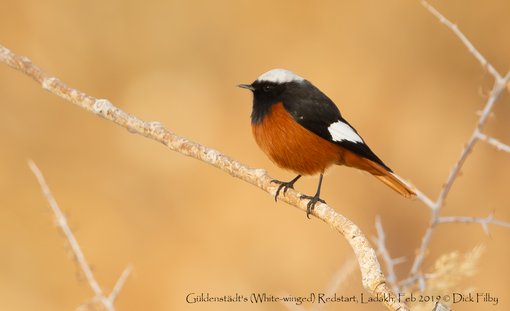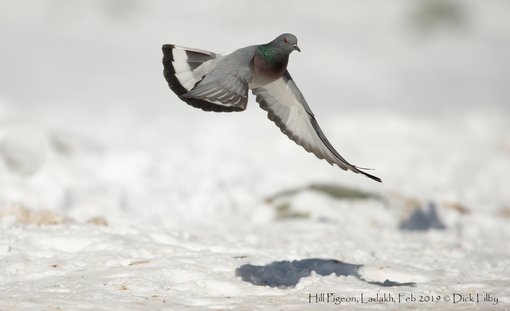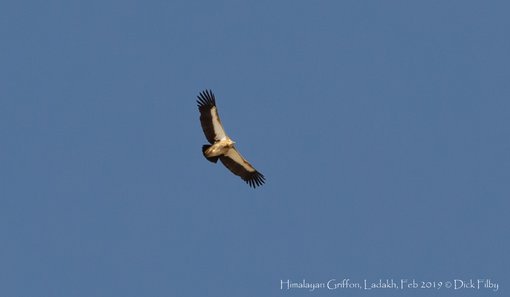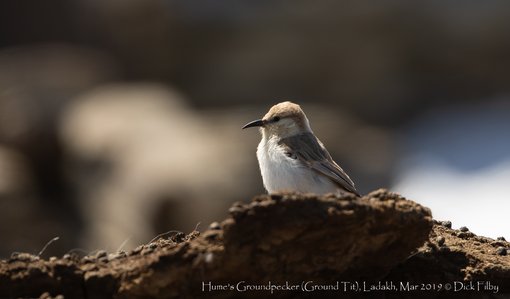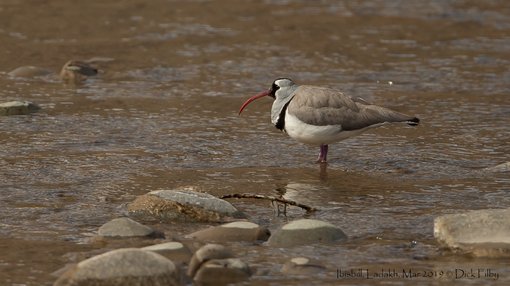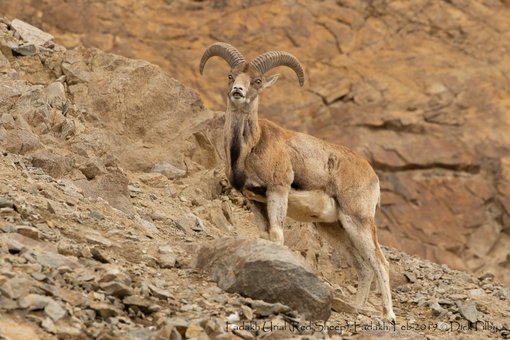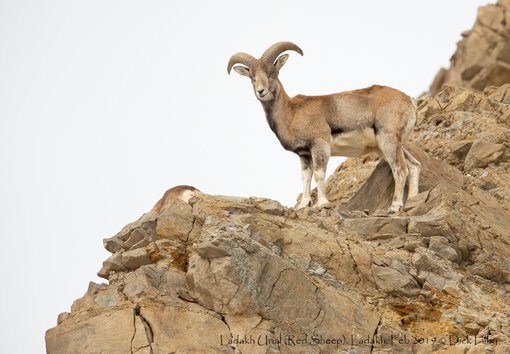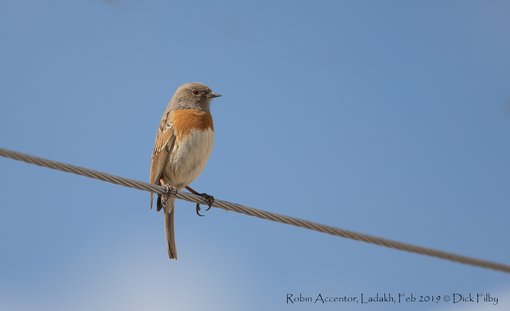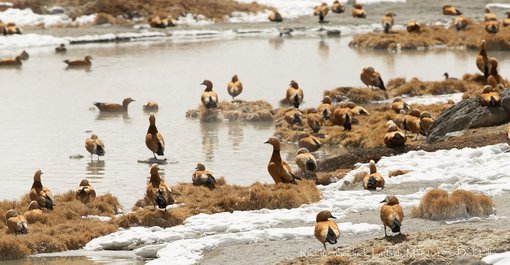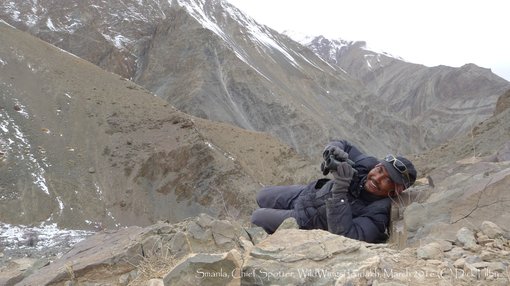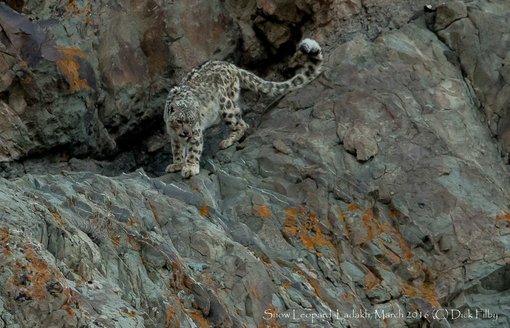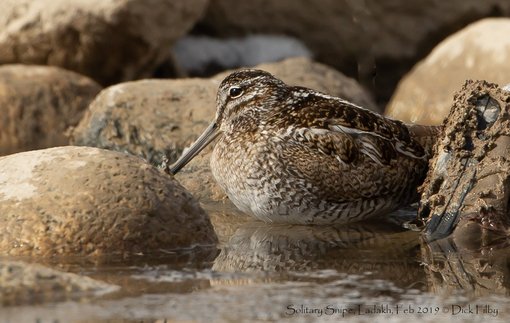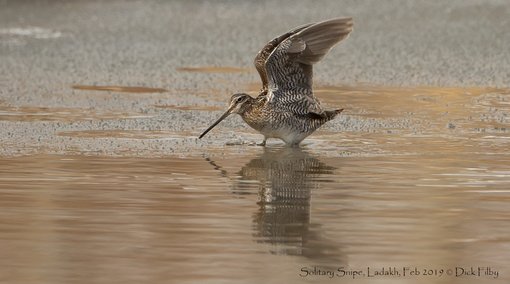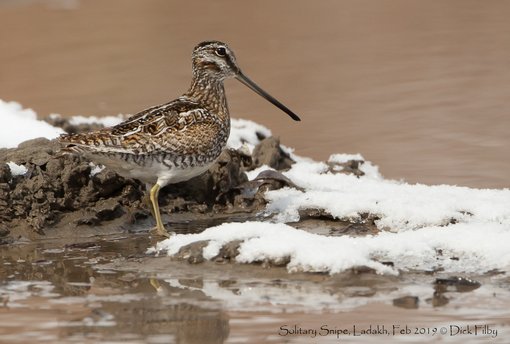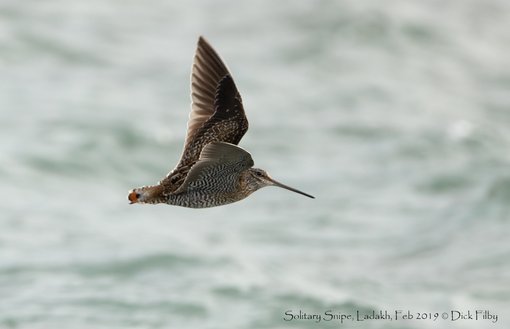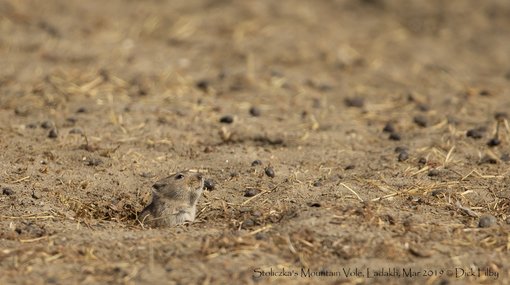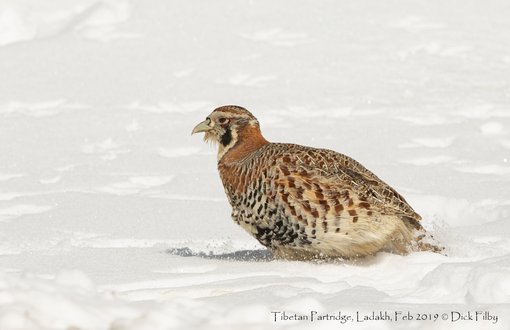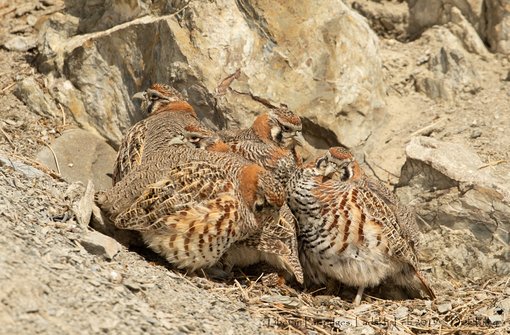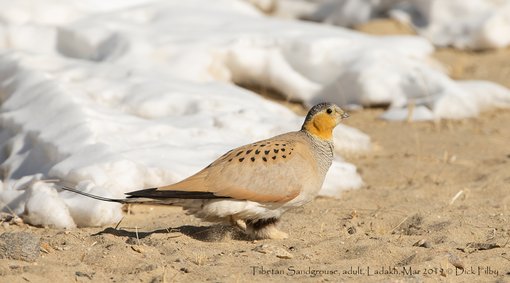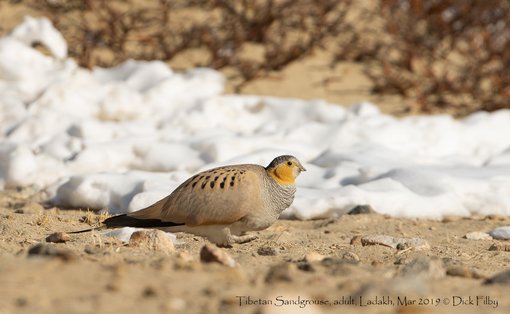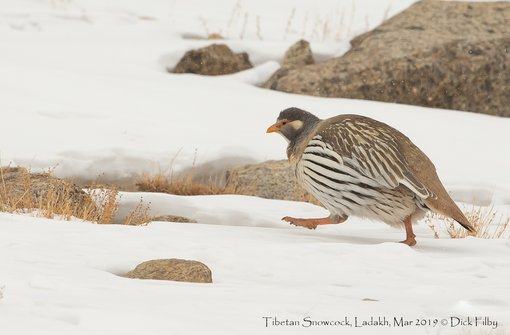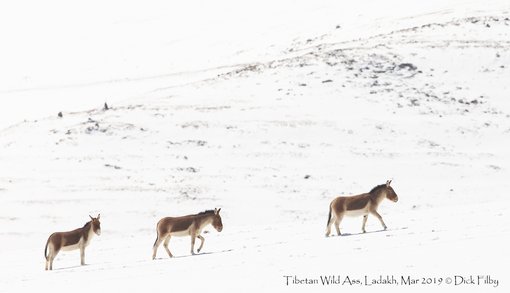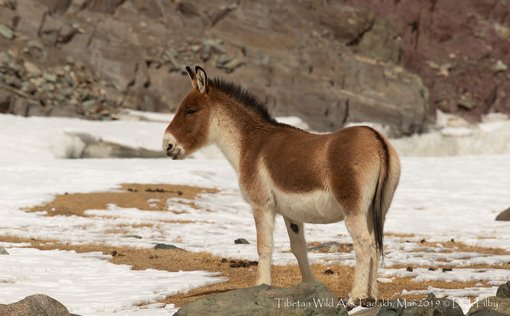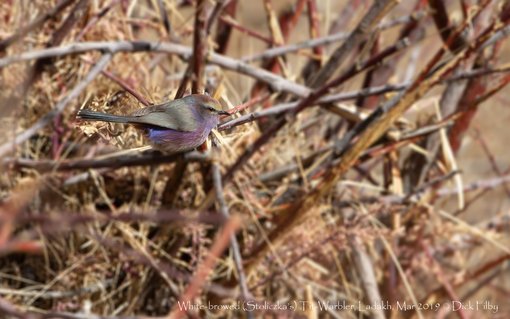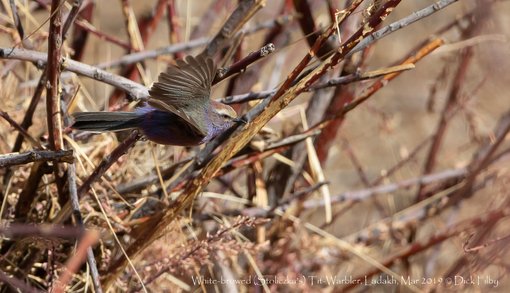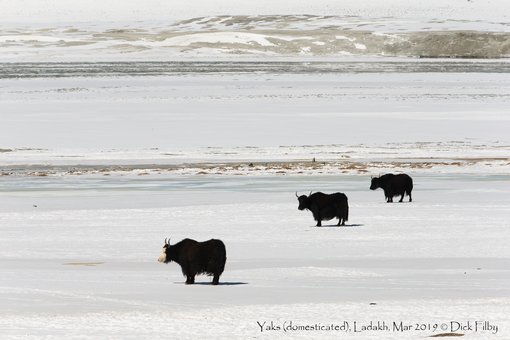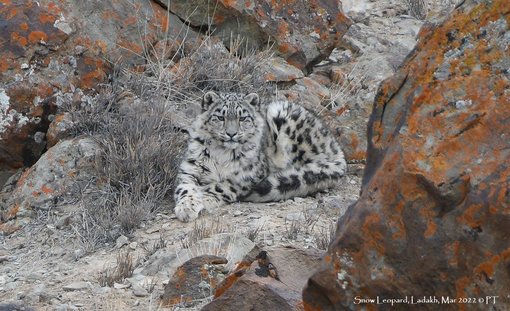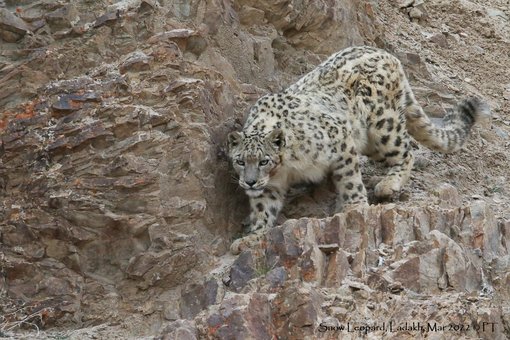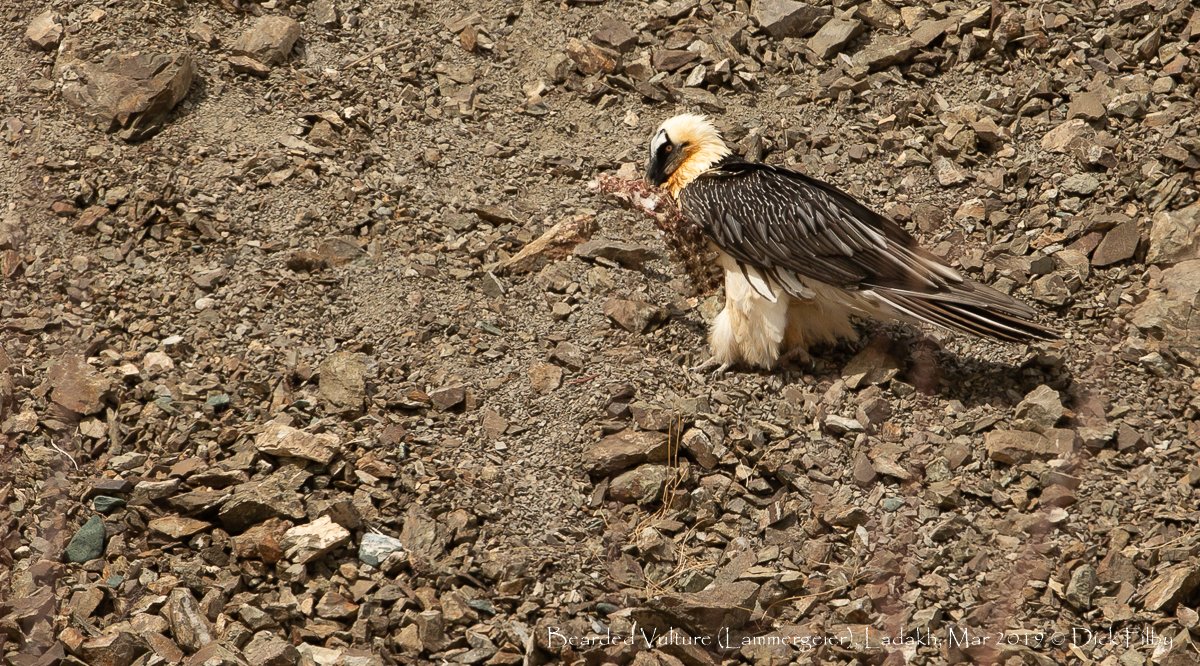 Lammergeier © Dick Filby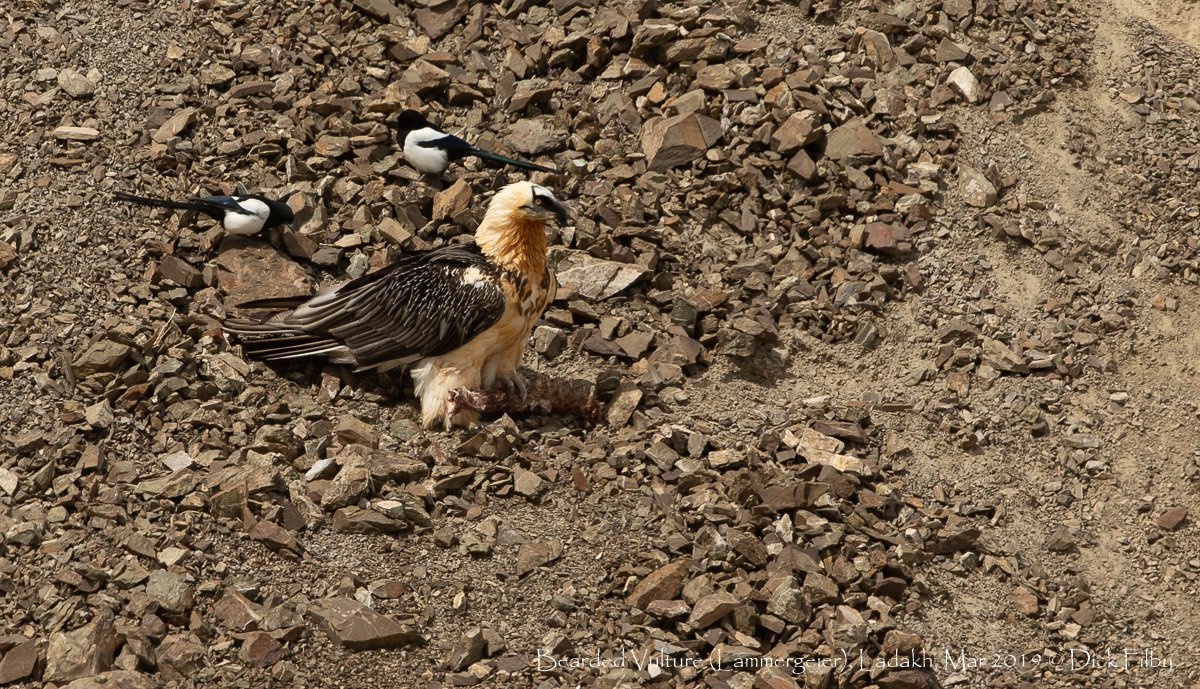 Lammergeier © Dick Filby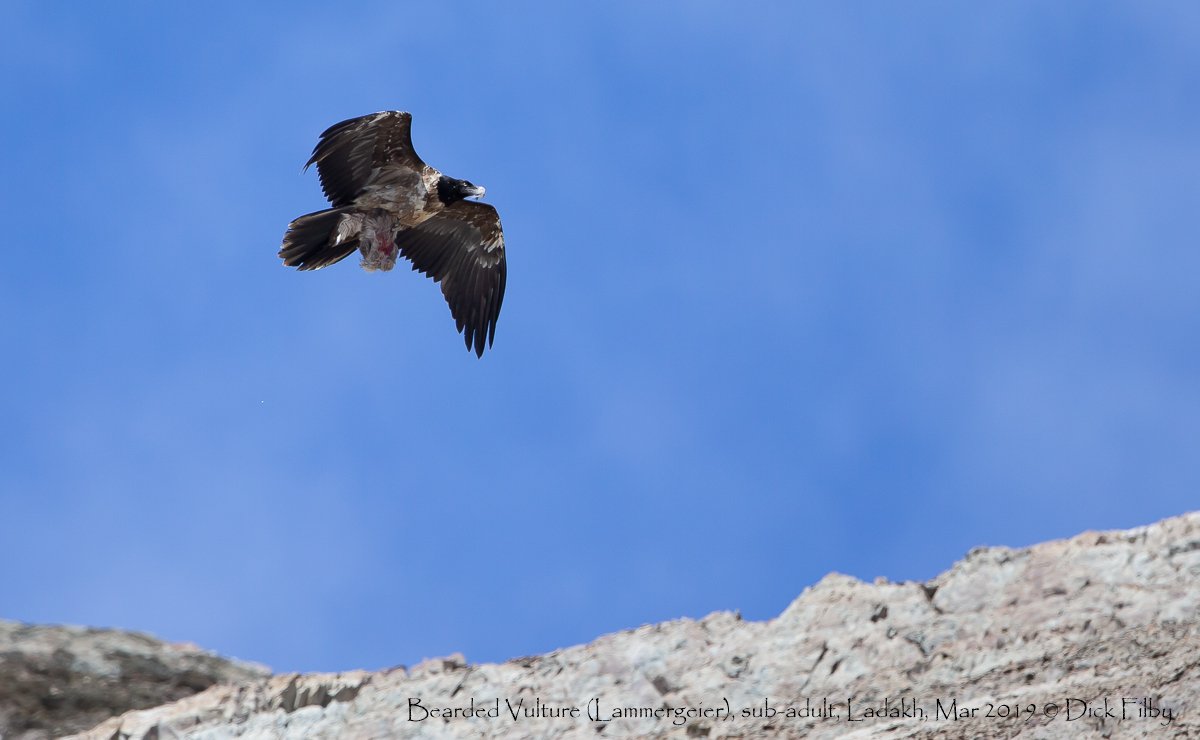 Lammergeier © Dick Filby
Black-winged Snowfinch © Dick Filby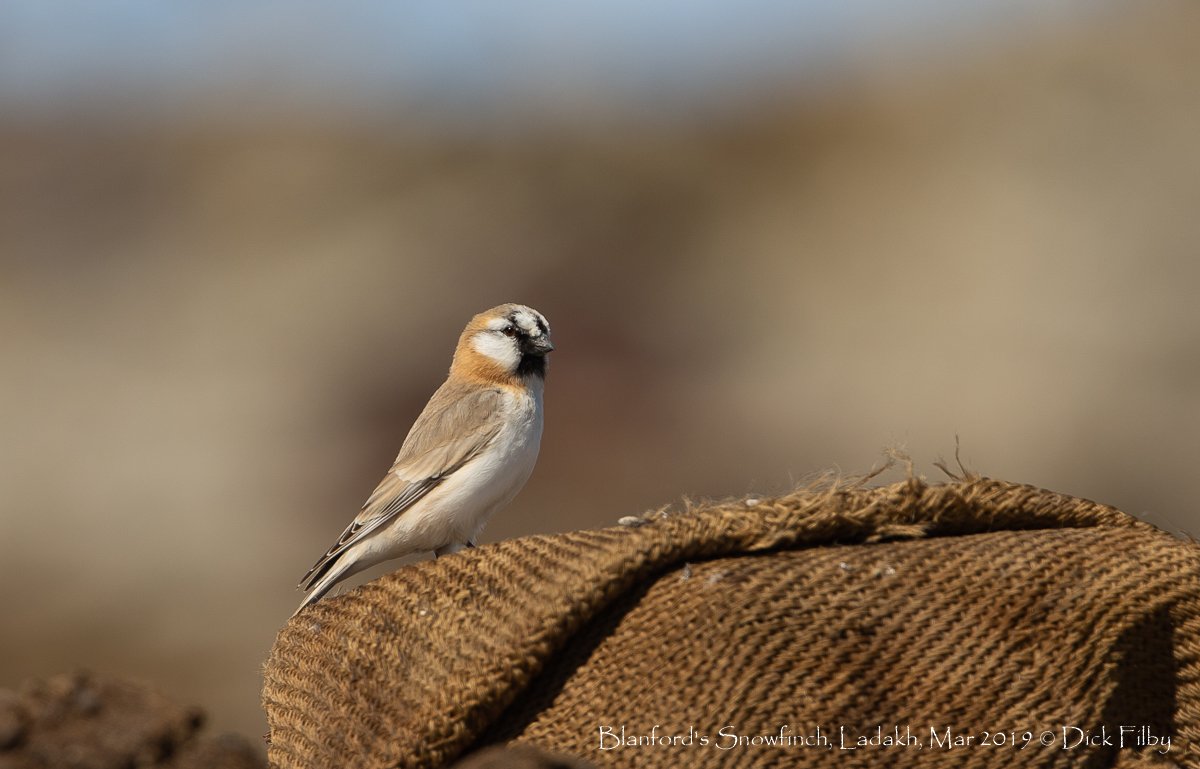 Blanford's Snowfinch © Dick Filby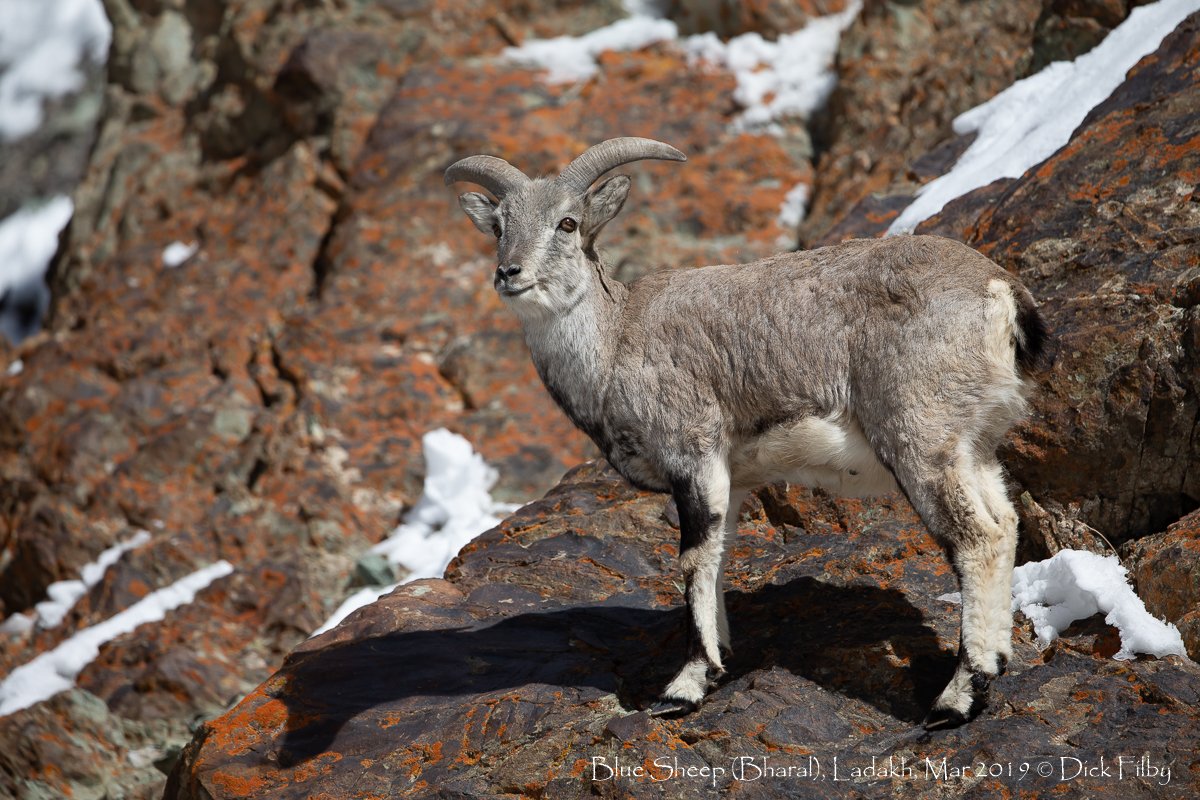 Blue Sheep (Bharal) © Dick Filby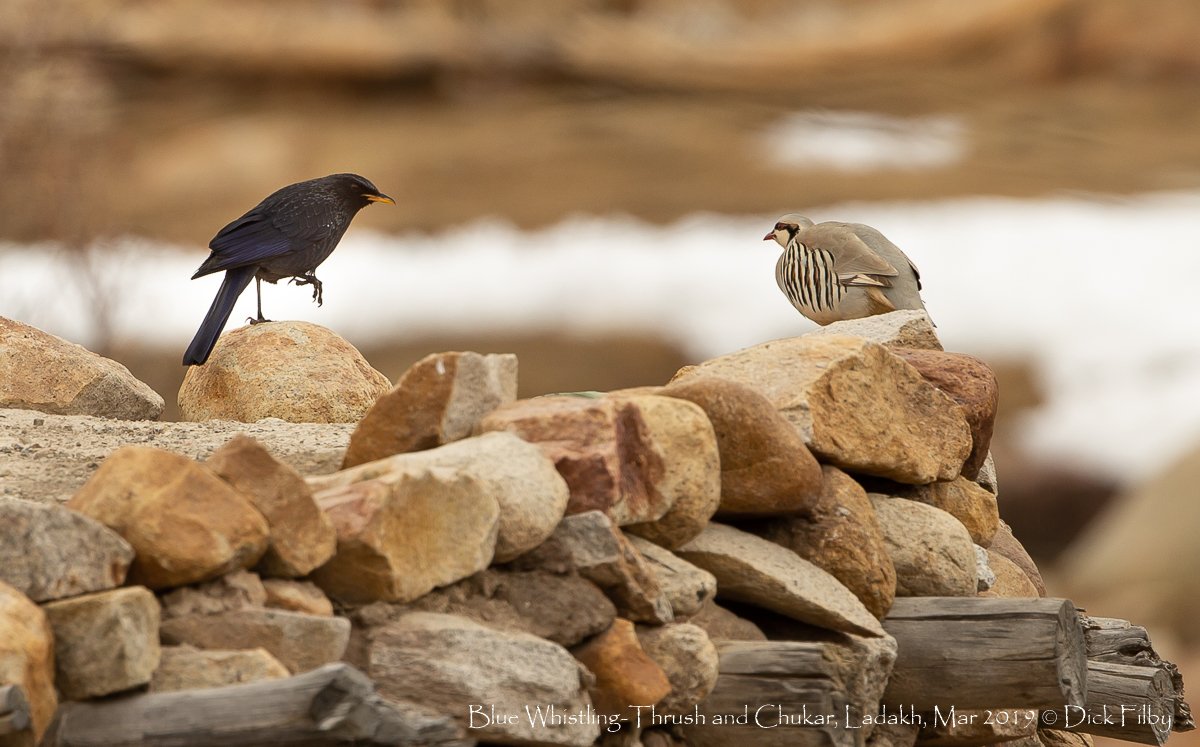 Blue Whistling-Thrush and Chukar © Dick Filby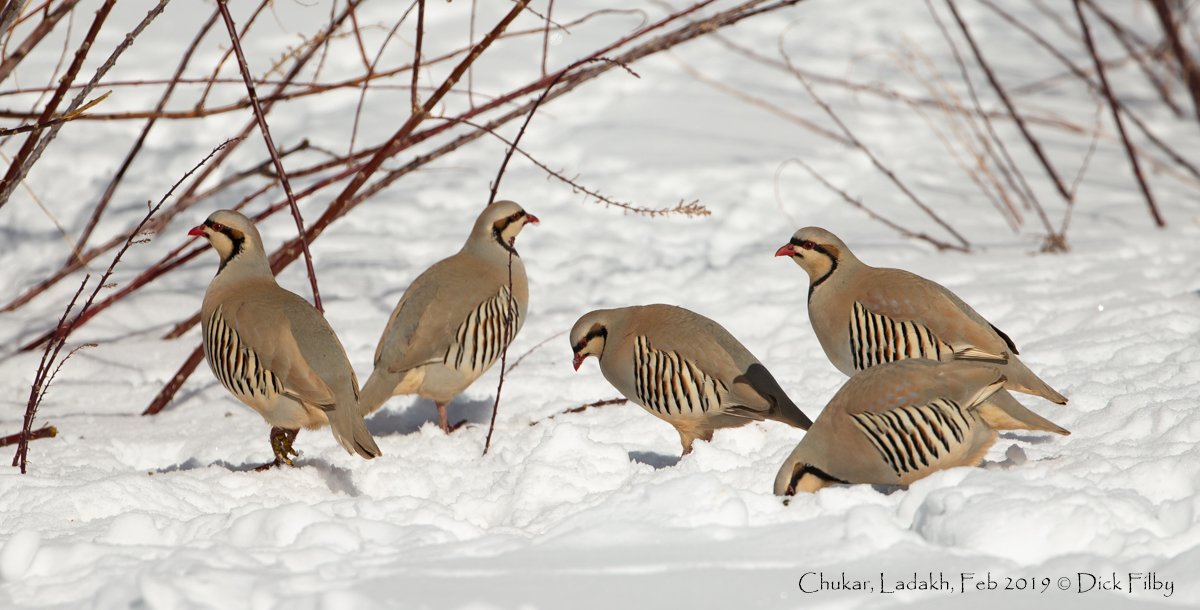 Chukar © Dick Filby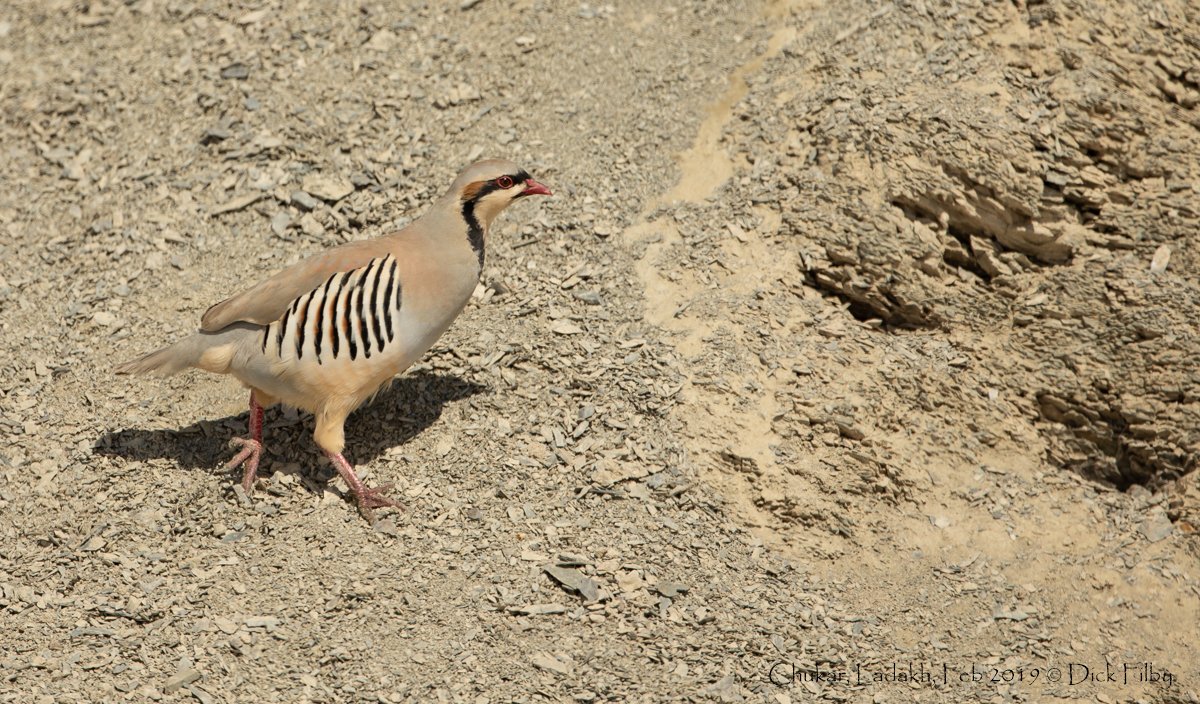 Chukar © Dick Filby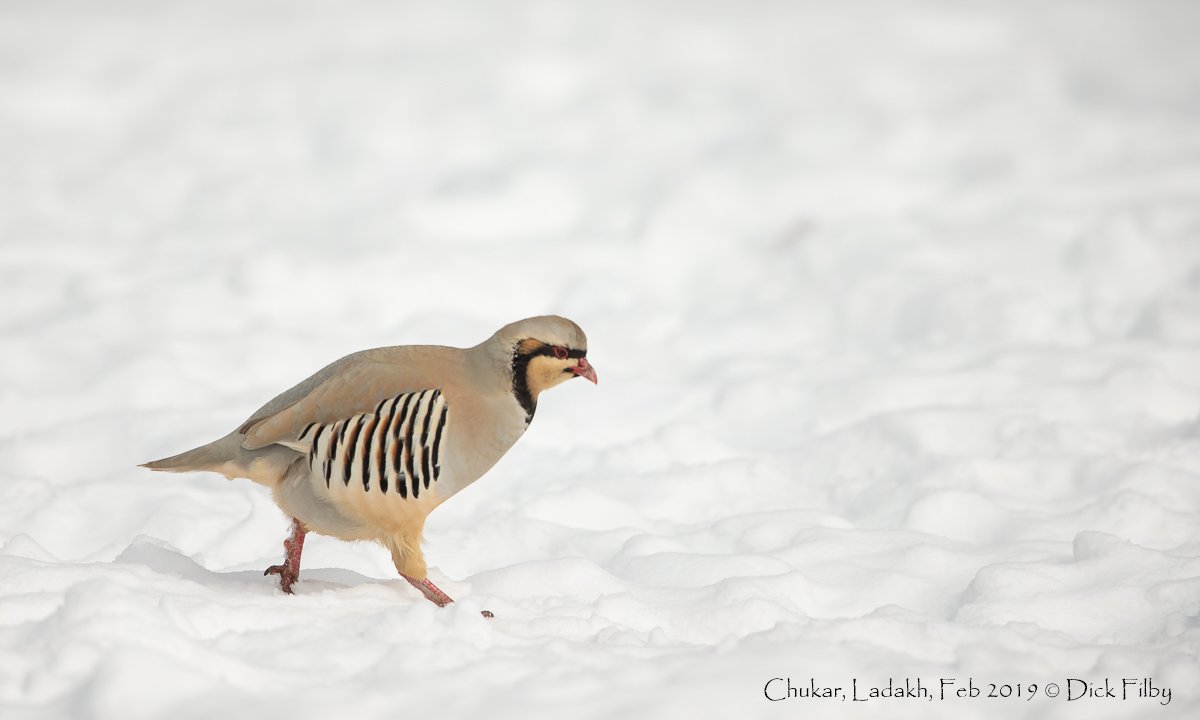 Chukar © Dick Filby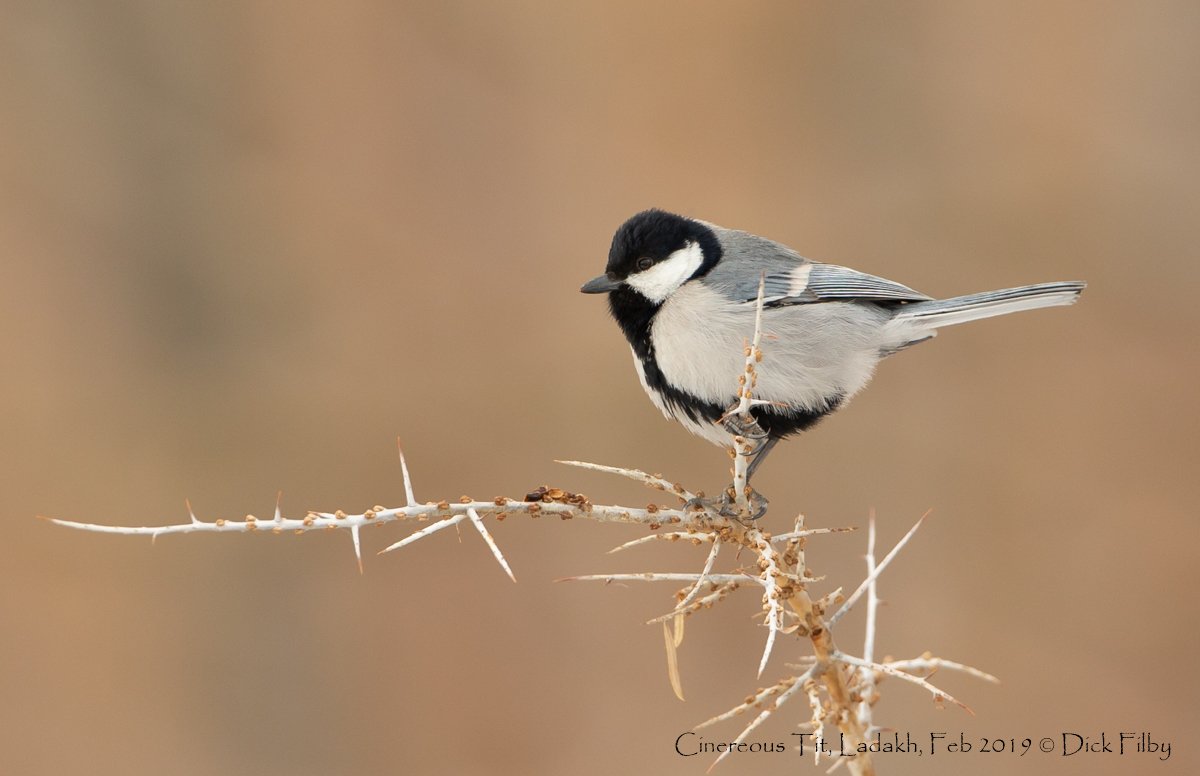 Cinereous Tit © Dick Filby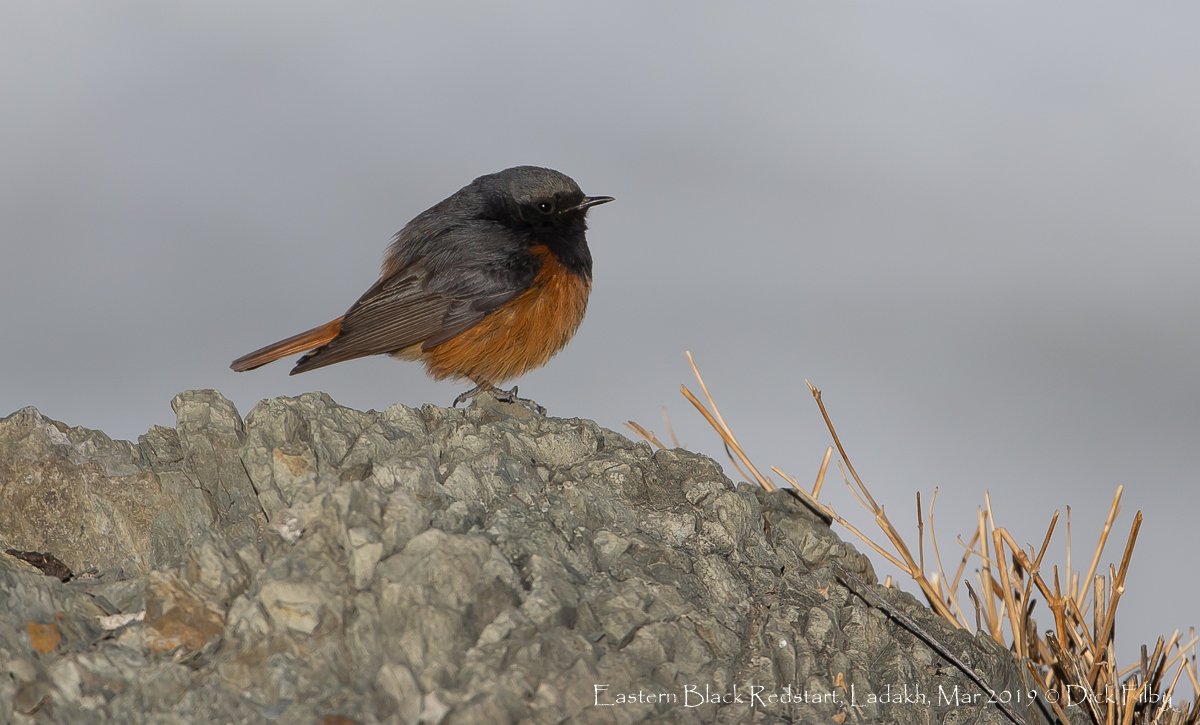 Eastern Black Redstart © Dick Filby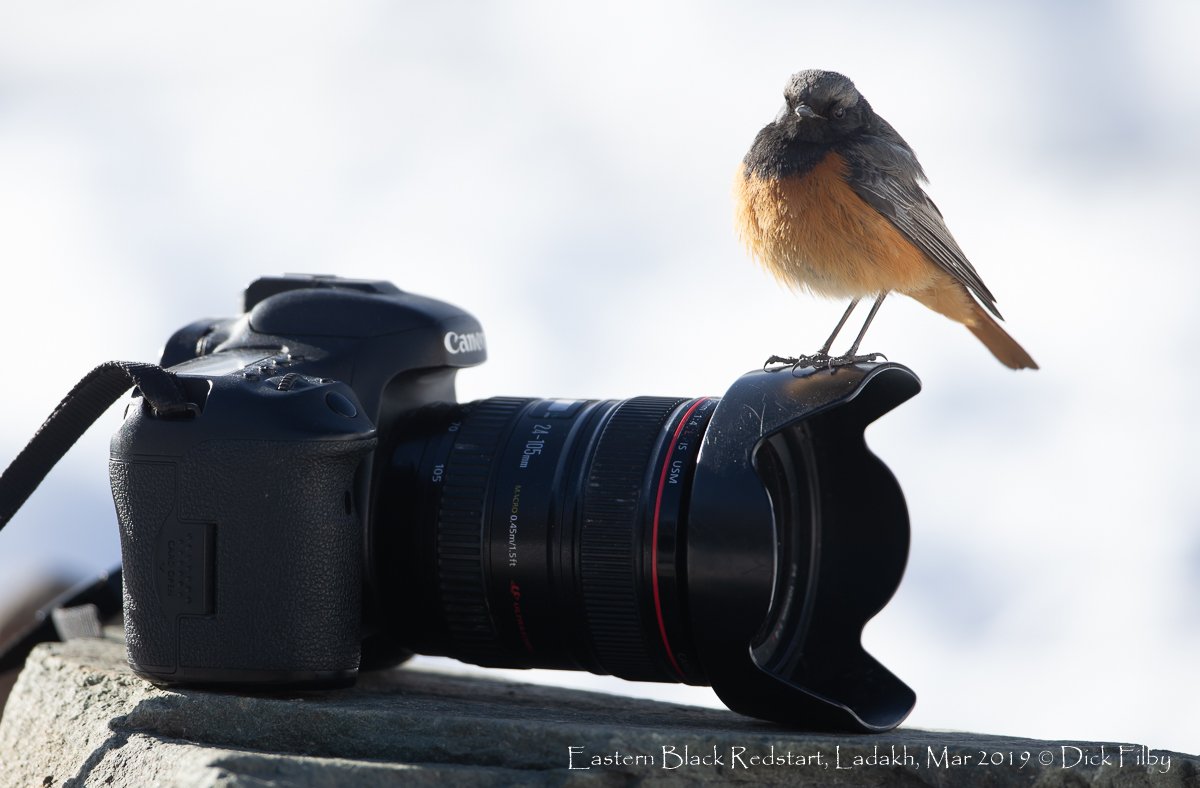 Eastern Black Redstart © Dick Filby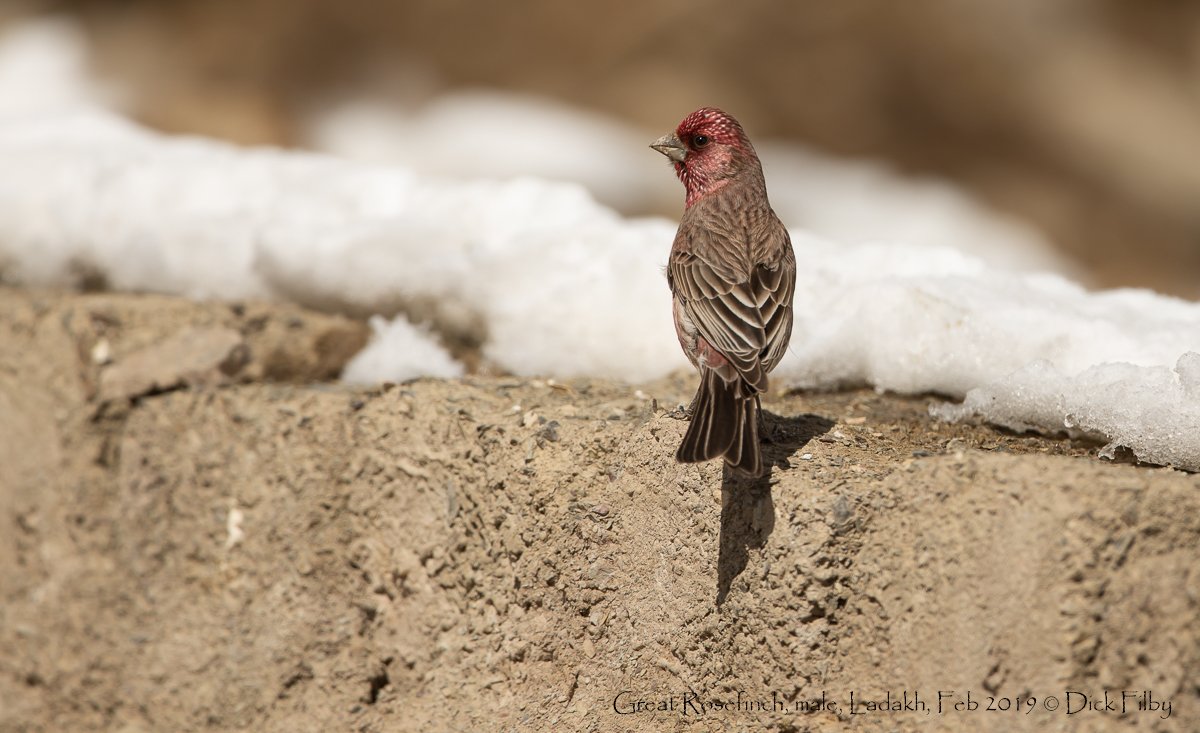 Great Rosefinch © Dick Filby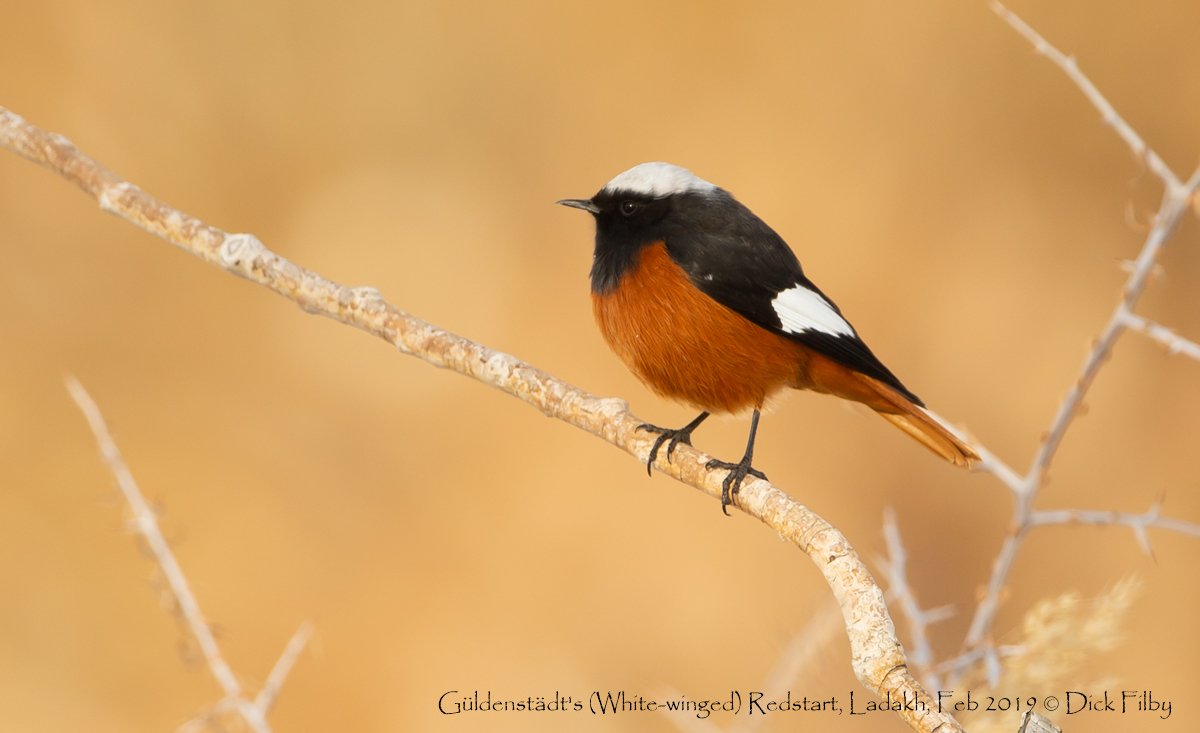 Güldenstädt's (White-winged) Redstart © Dick Filby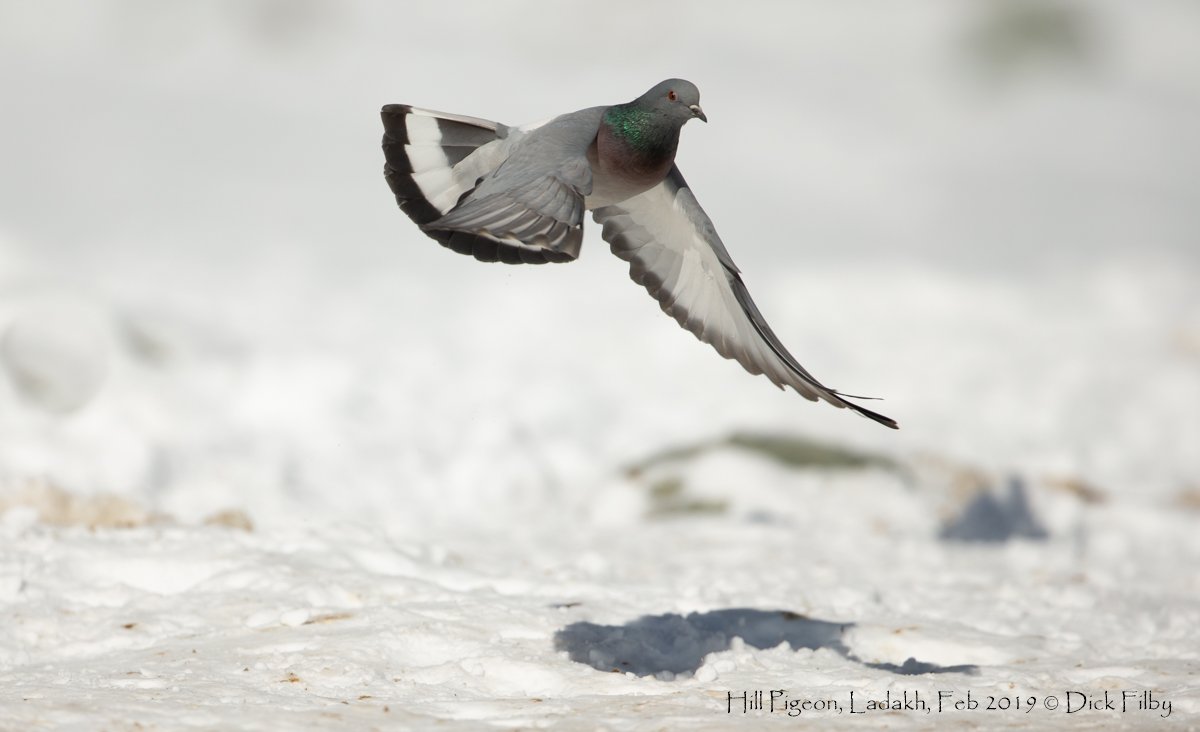 Hill Pigeon © Dick Filby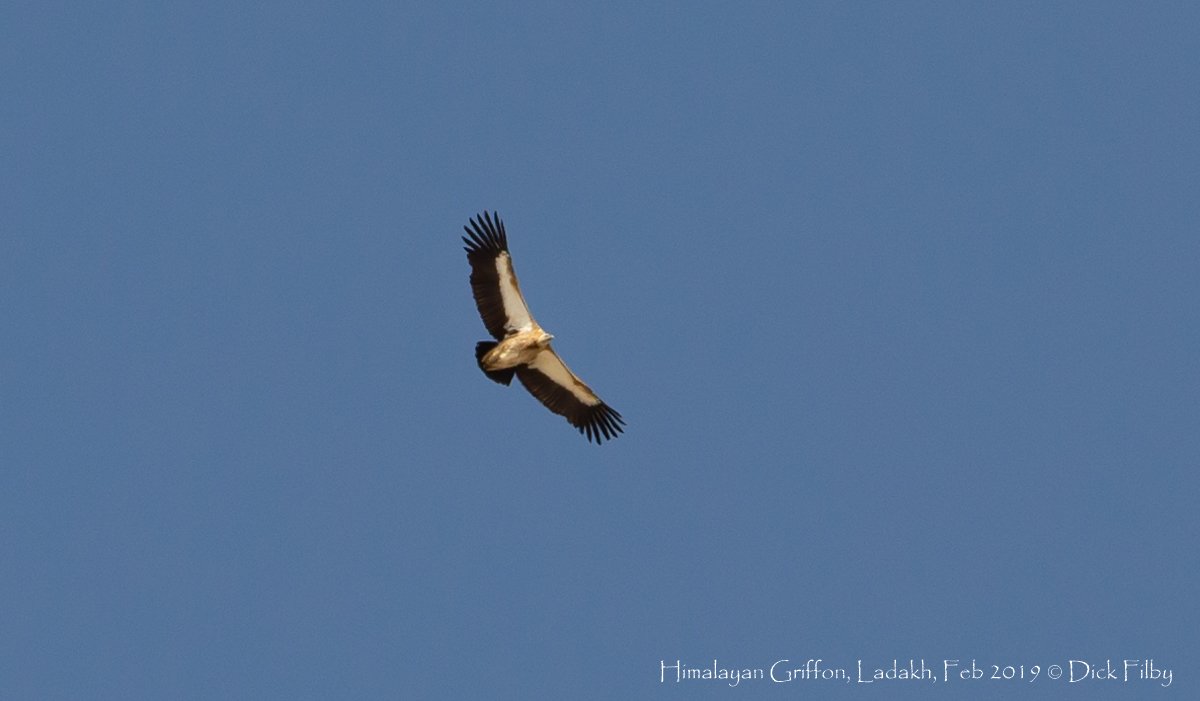 Himalayan Griffon © Dick Filby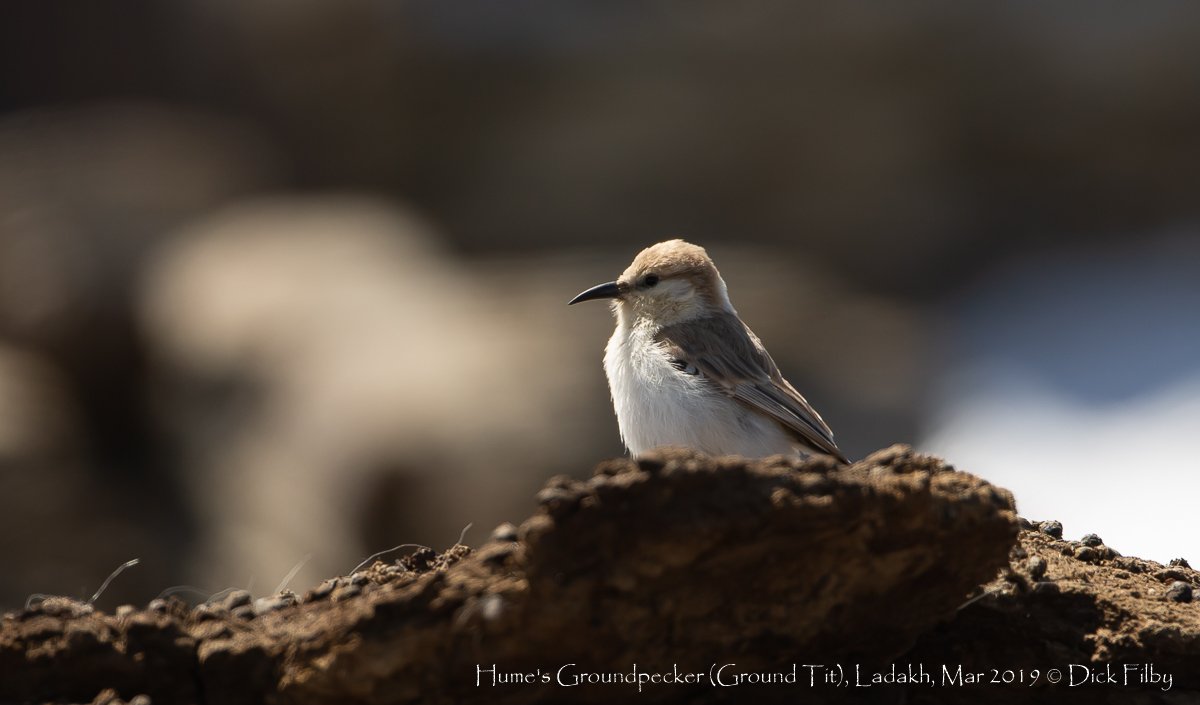 Hume's Groundpecker (Ground Tit) © Dick Filby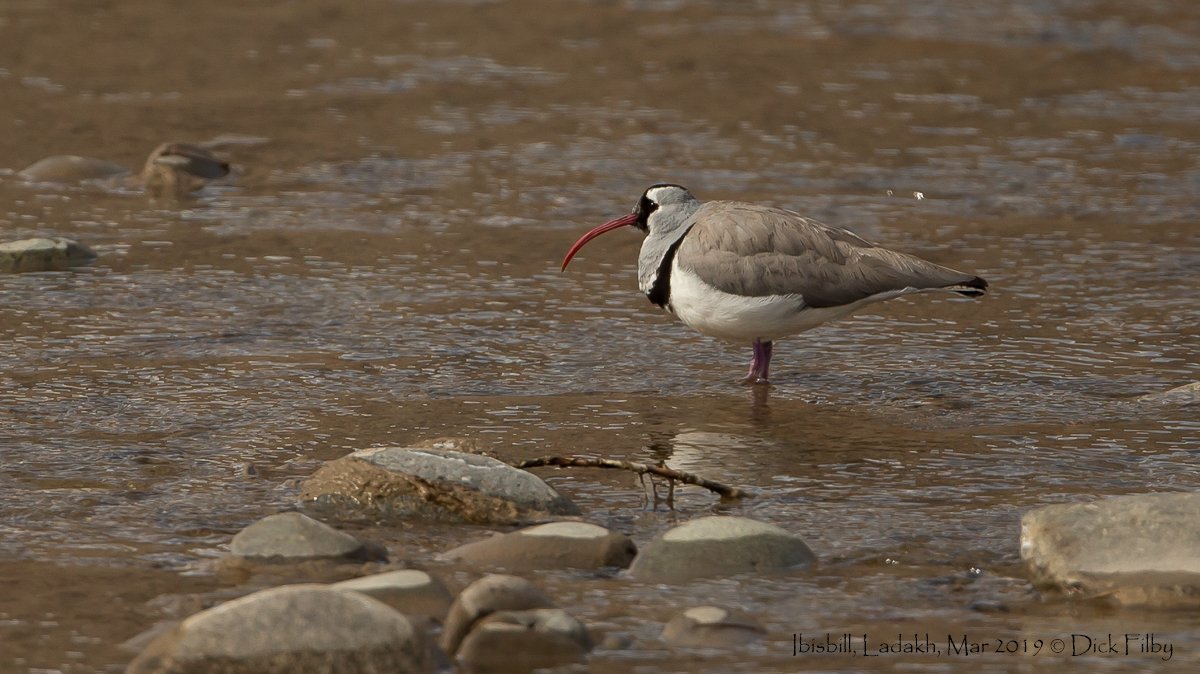 Ibisbill © Dick Filby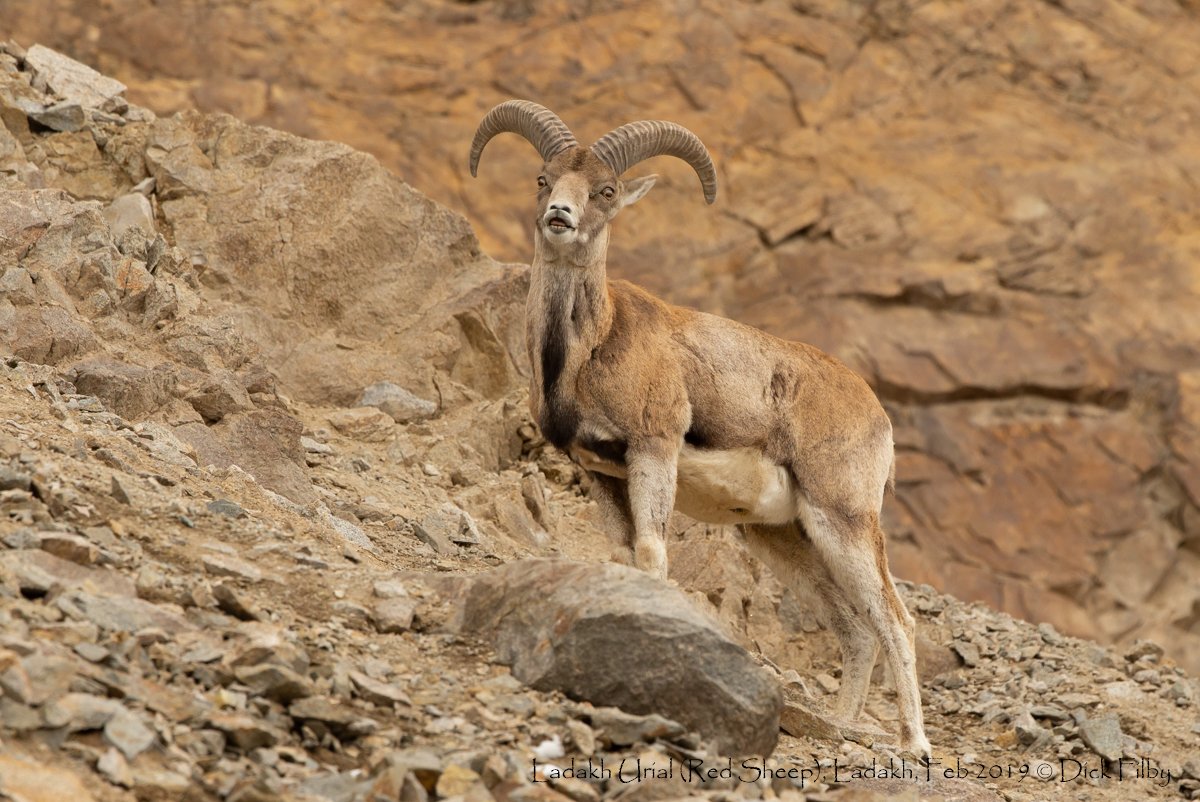 Ladakh Urial (Red Sheep) © Dick Filby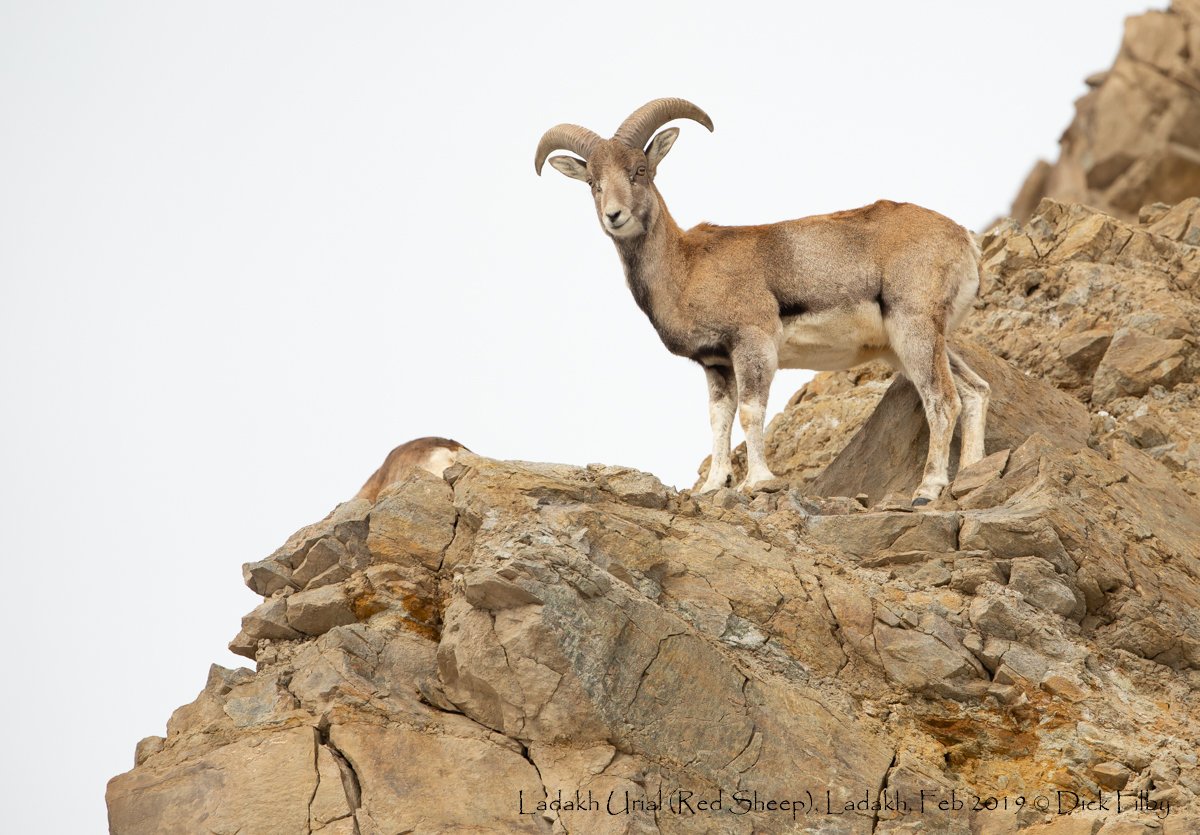 Ladakh Urial (Red Sheep) © Dick Filby
Robin Accentor © Dick Filby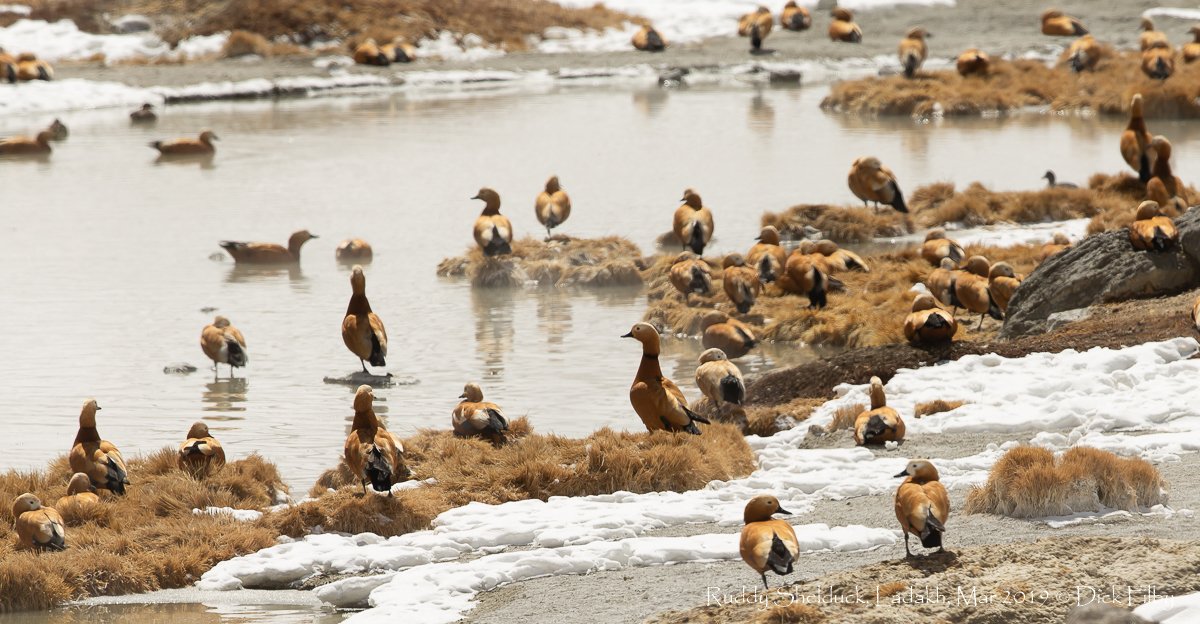 Ruddy Shelduck © Dick Filby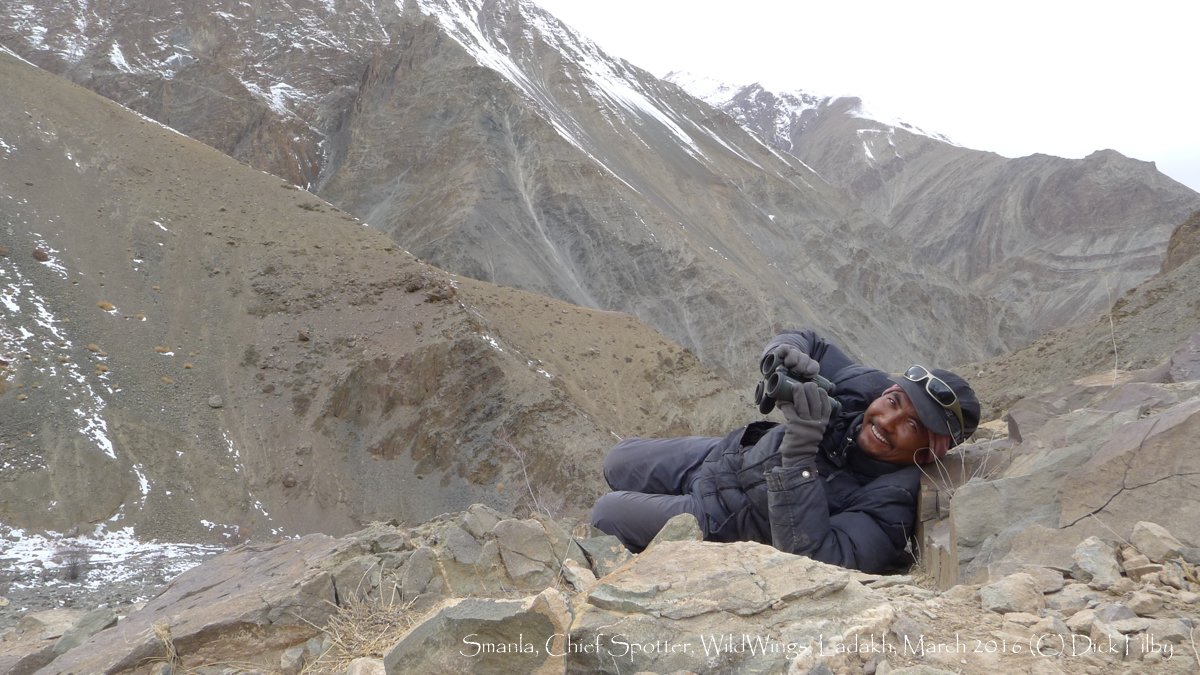 Smanla, chief spotter © Dick Filby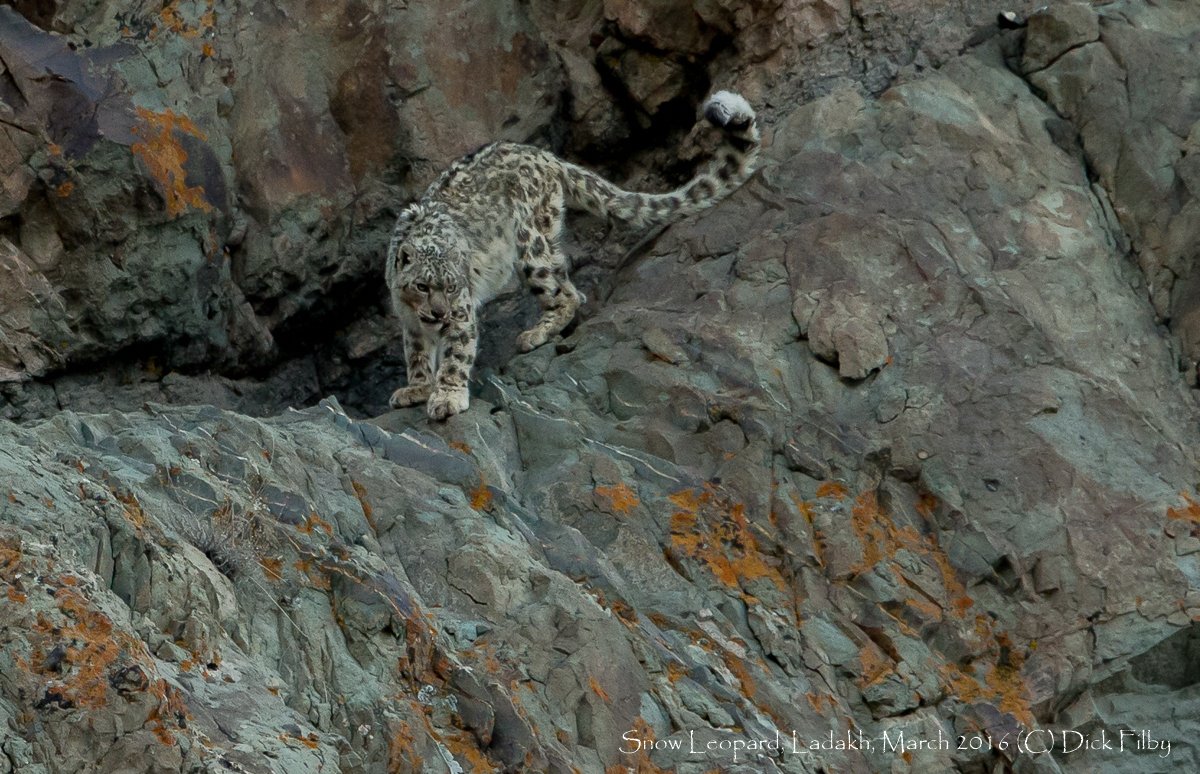 Snow Leopard © Dick Filby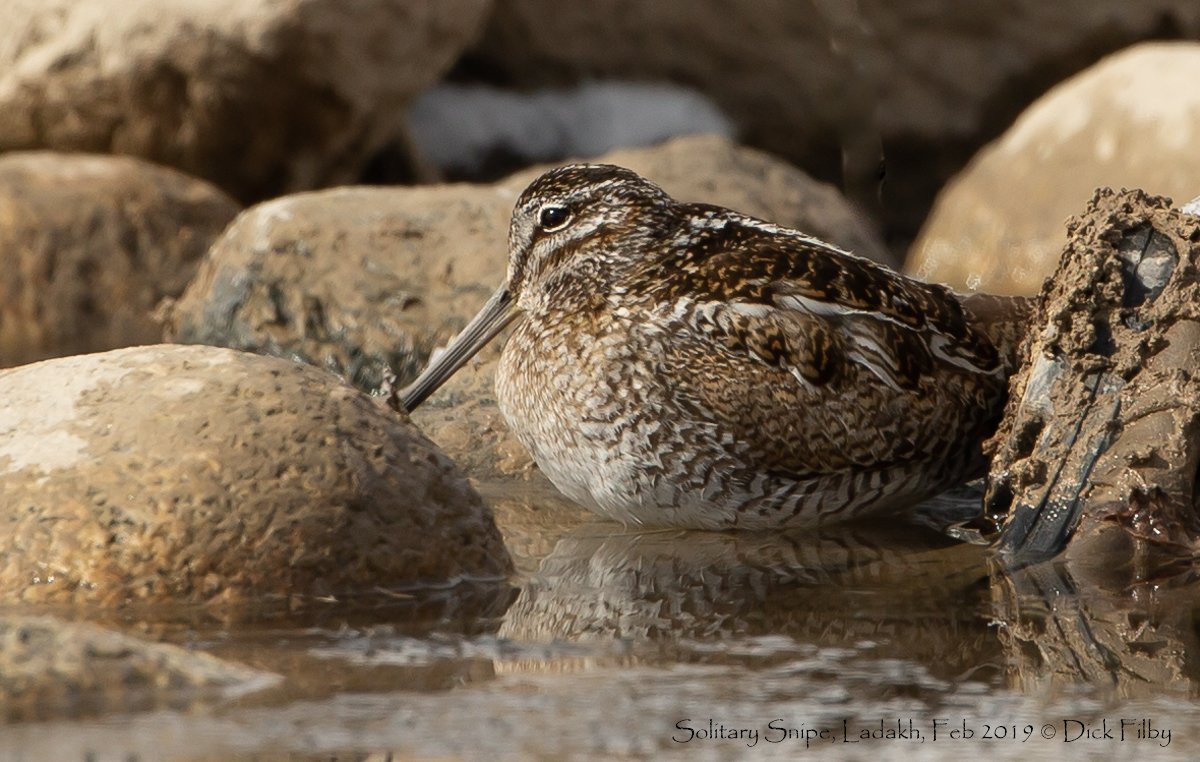 Solitary Snipe © Dick Filby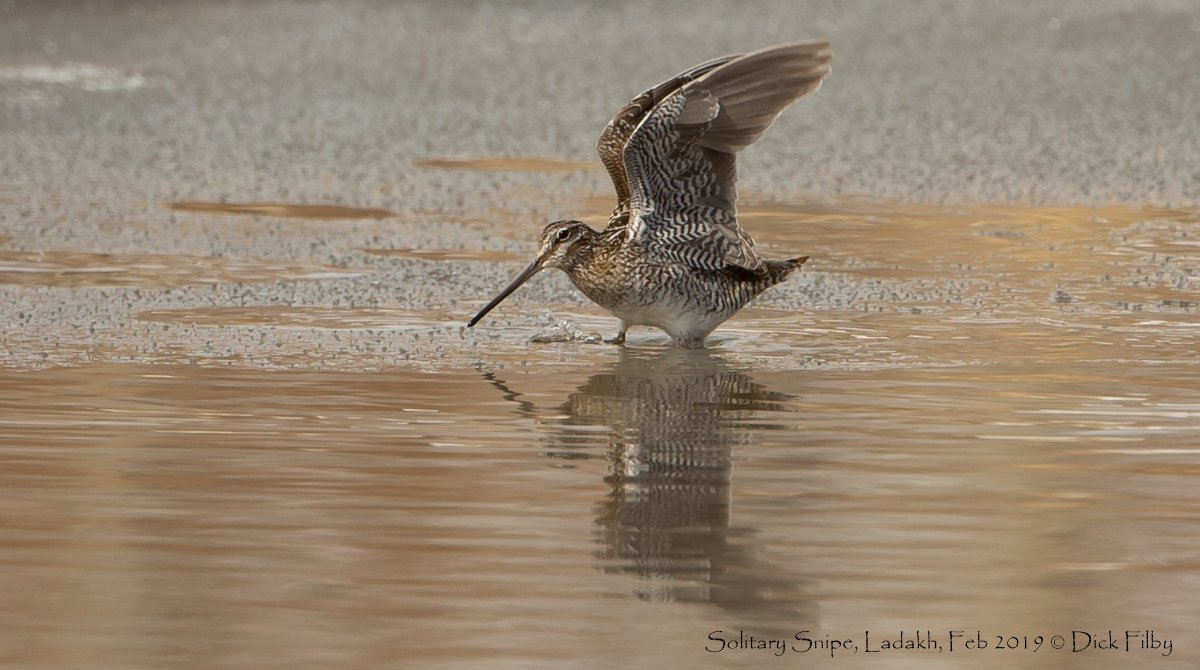 Solitary Snipe © Dick Filby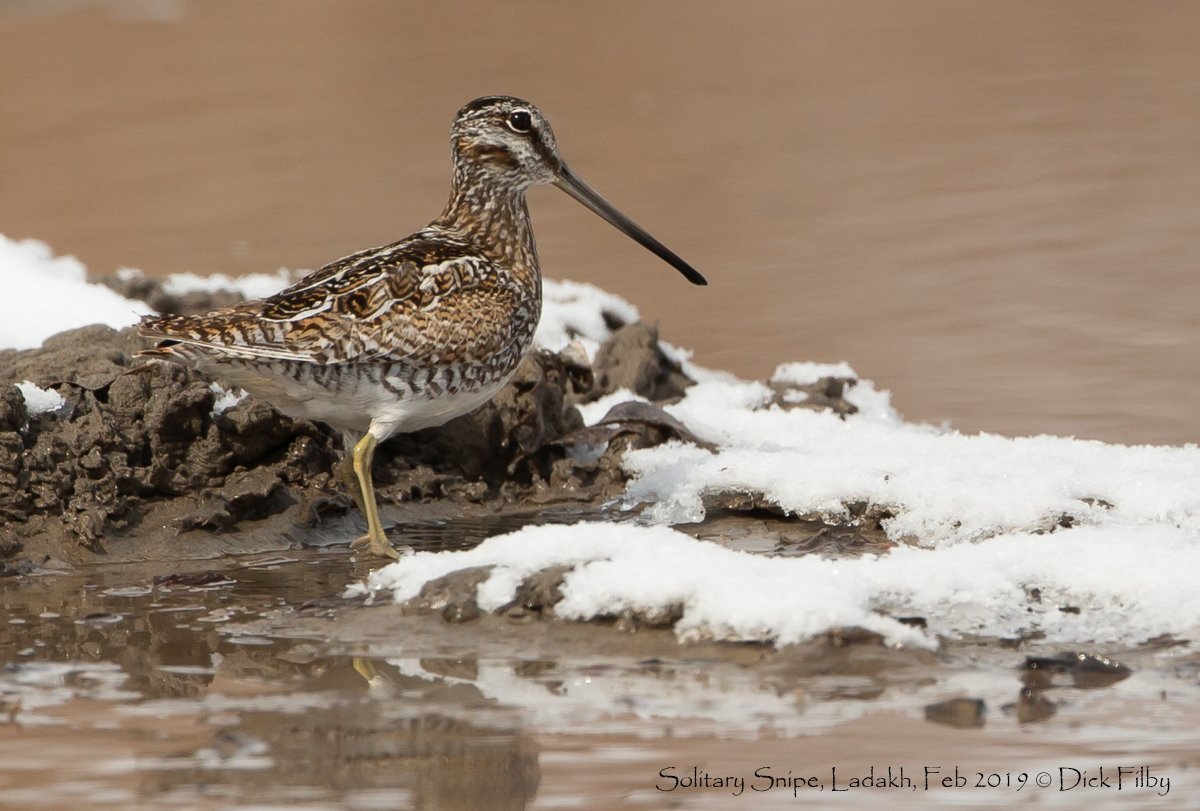 Solitary Snipe © Dick Filby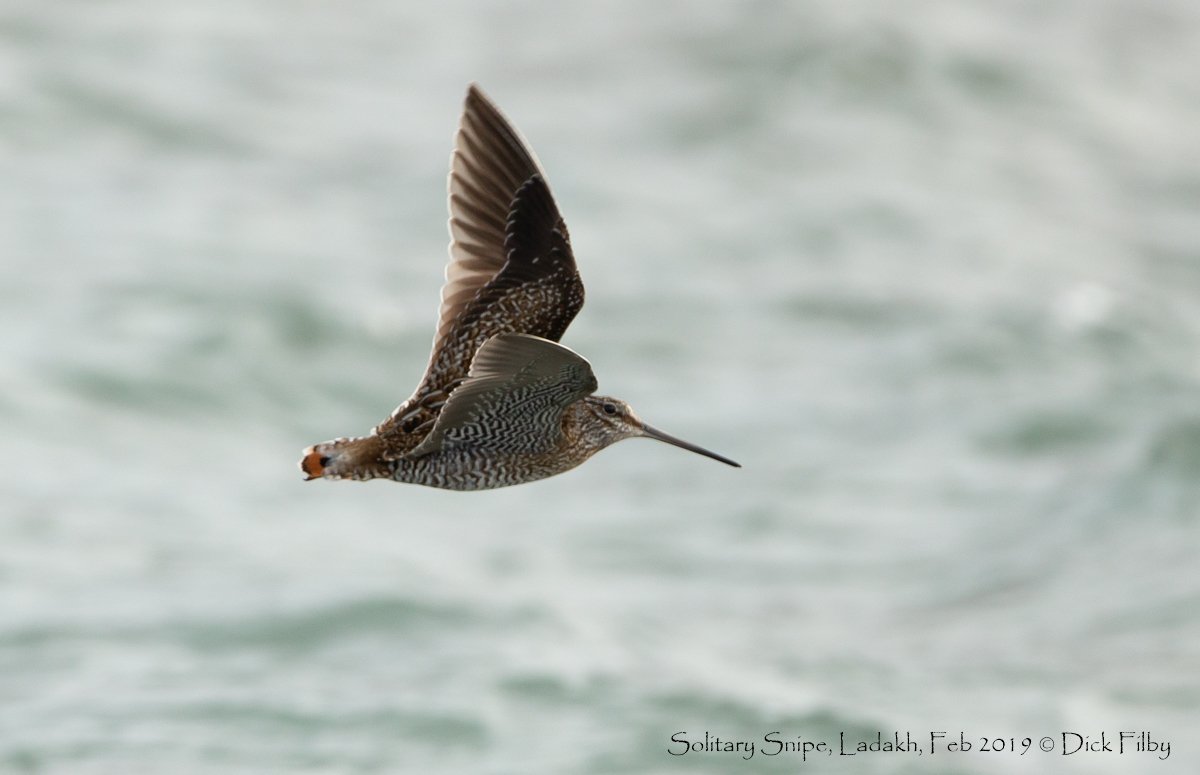 Solitary Snipe © Dick Filby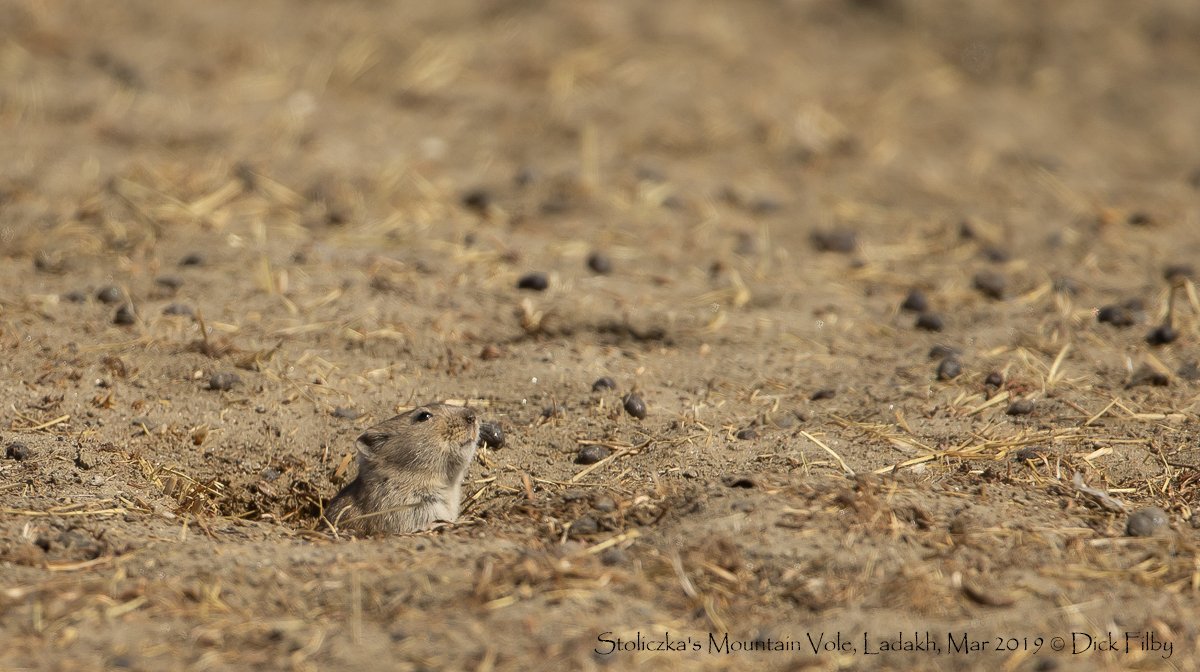 Stoliczka's Mountain Vole © Dick Filby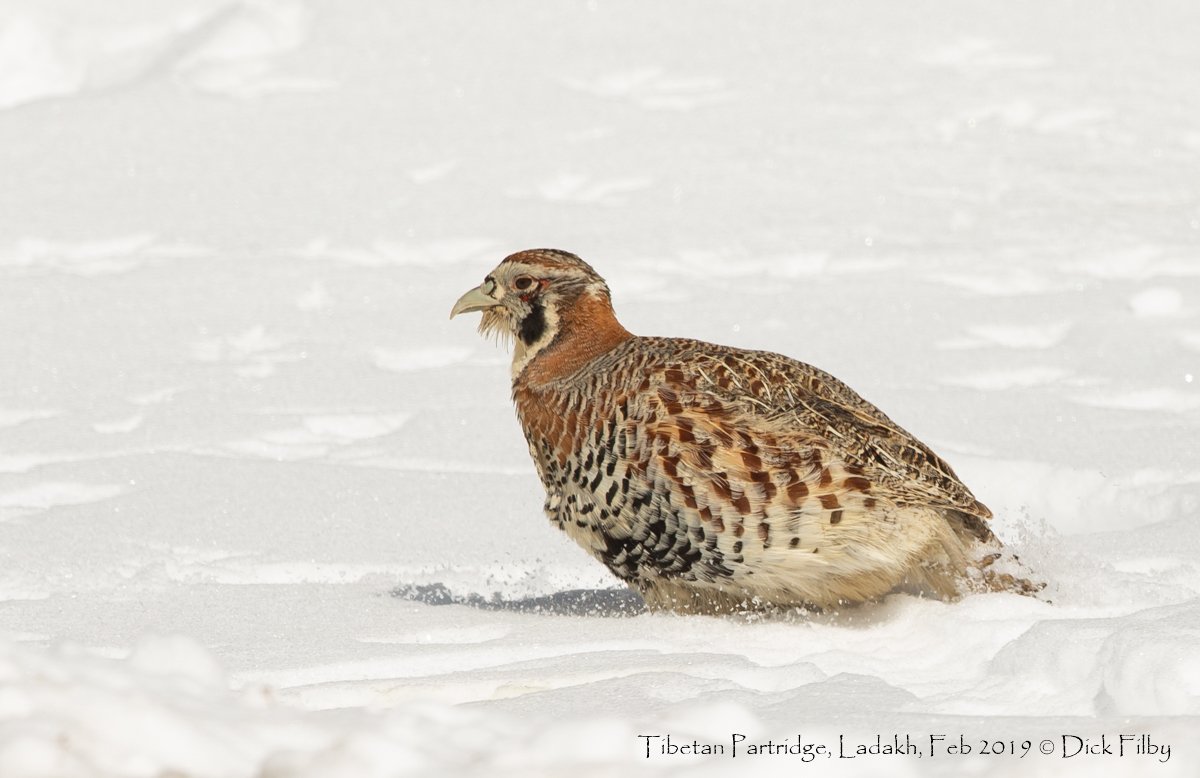 Tibetan Partridge © Dick Filby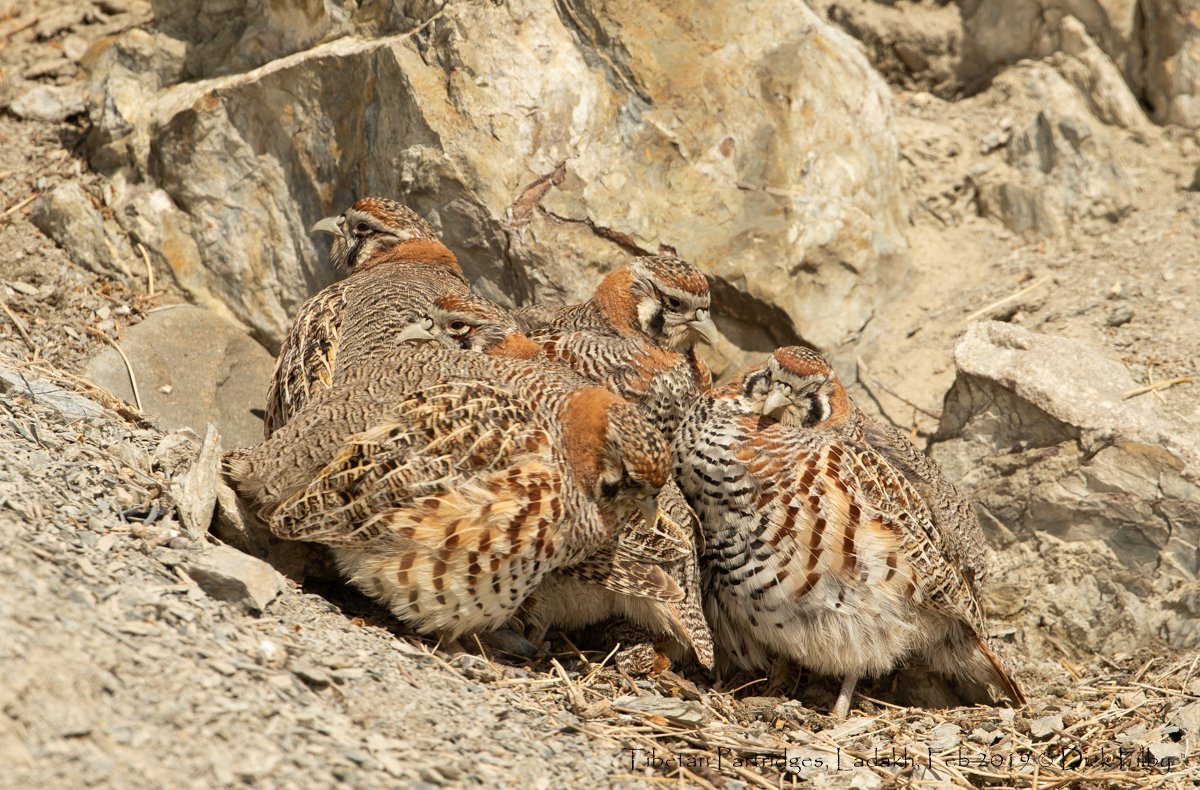 © Dick Filby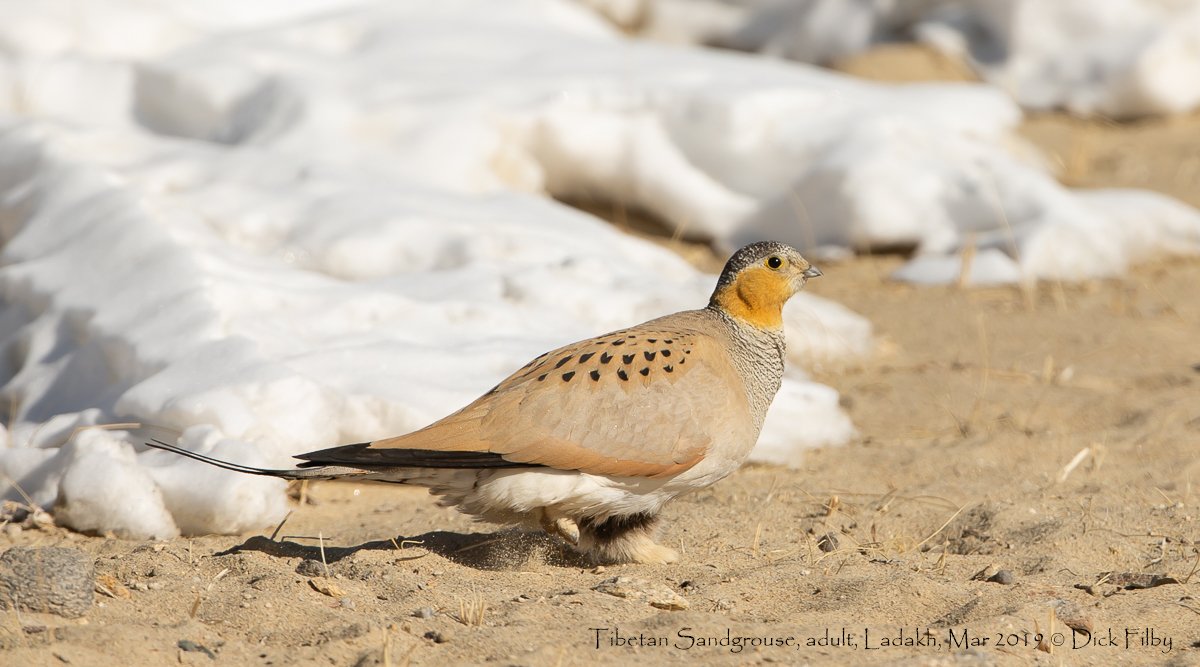 Tibetan Sandgrouse © Dick Filby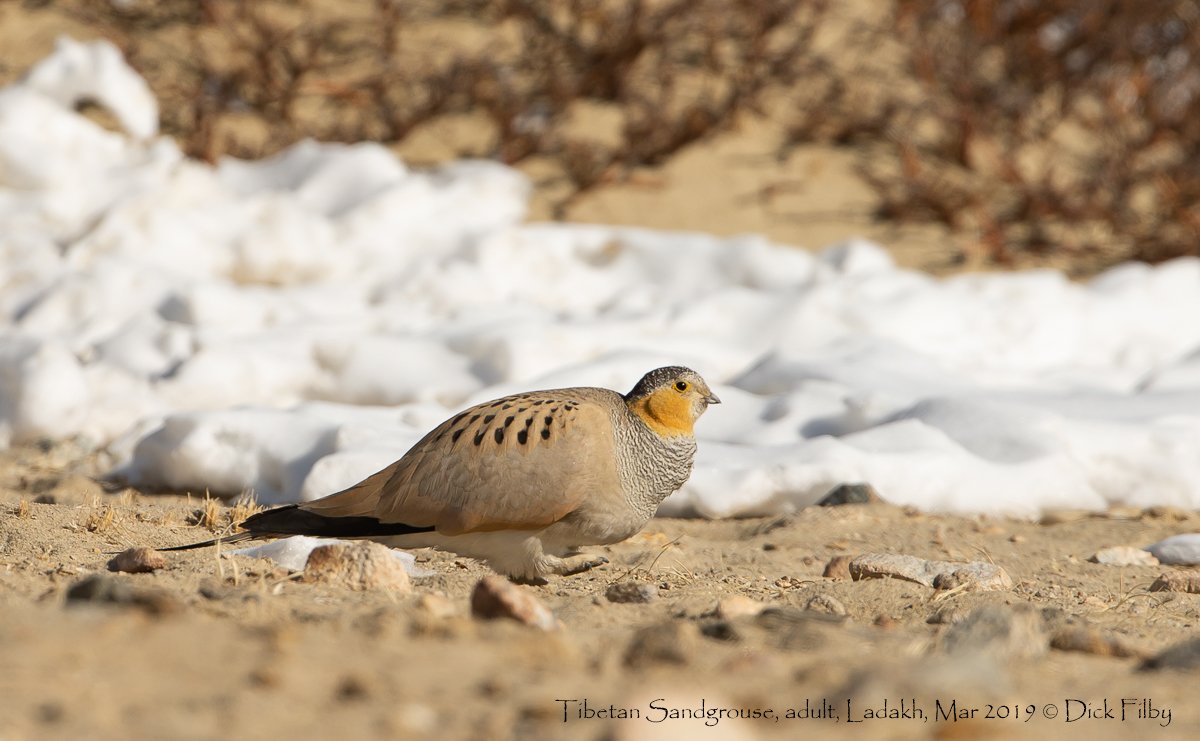 Tibetan Sandgrouse © Dick Filby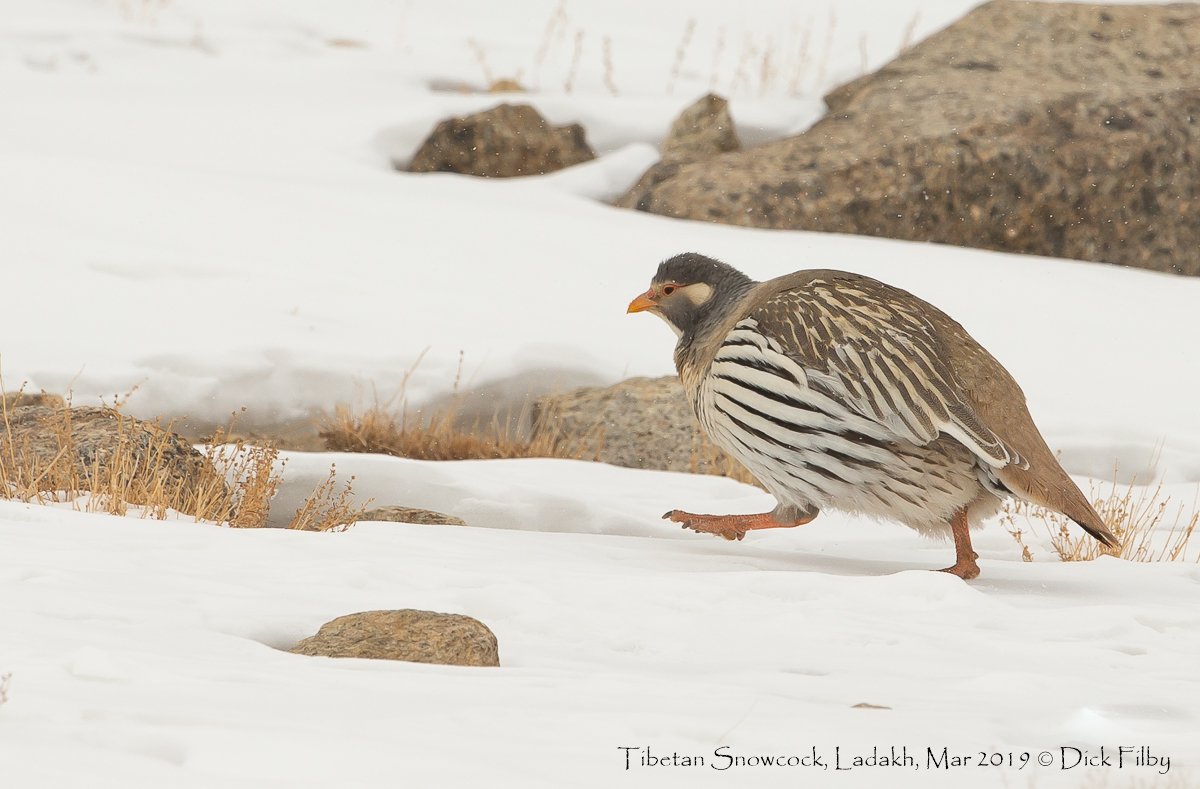 Tibetan Snowcock © Dick Filby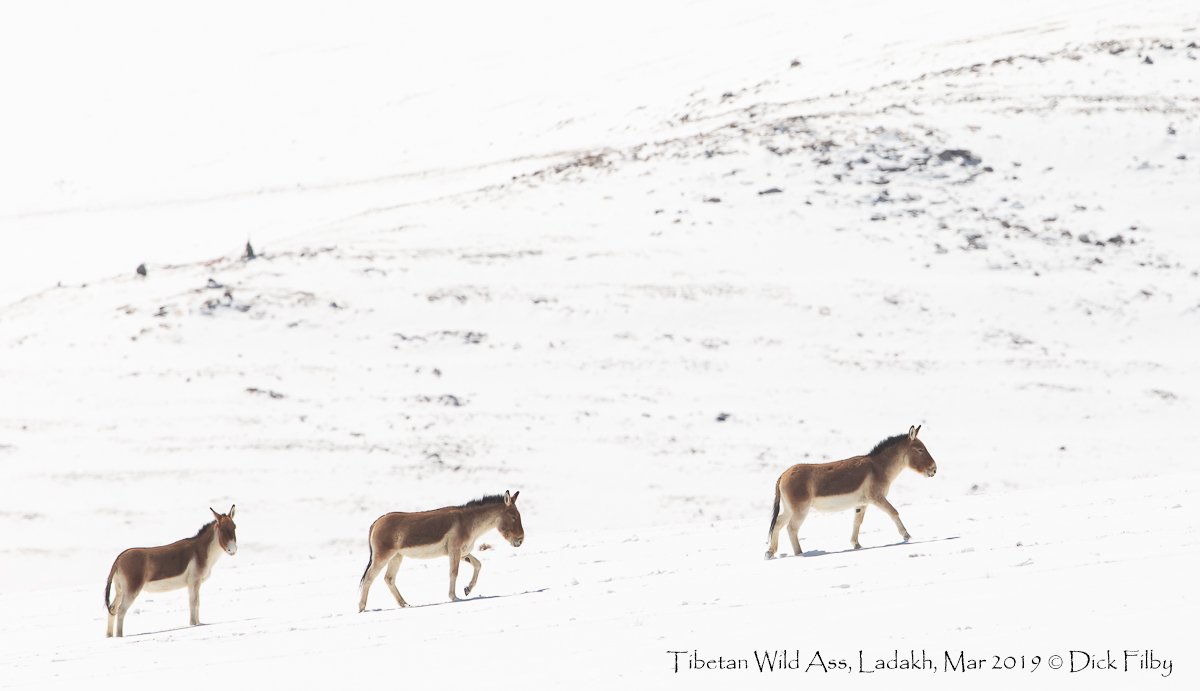 Tibetan Wild Ass © Dick Filby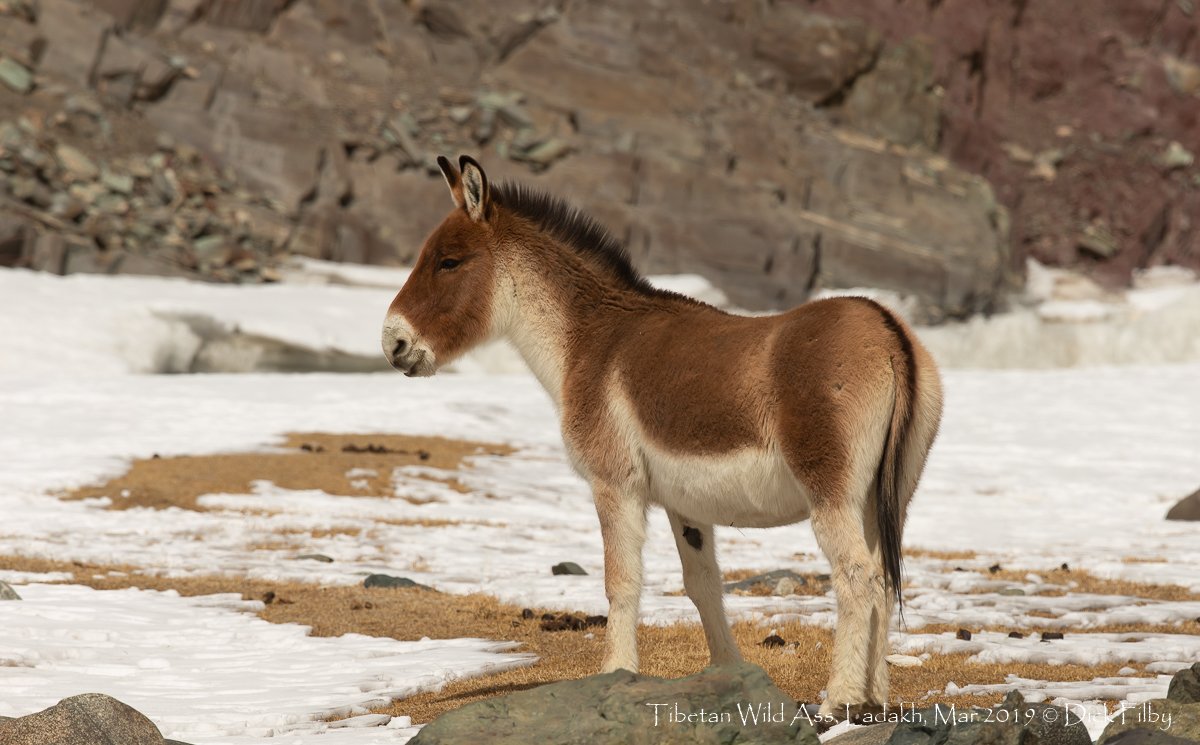 Tibetan Wild Ass © Dick Filby

Tibetan Wolves at dawn © Dick Filby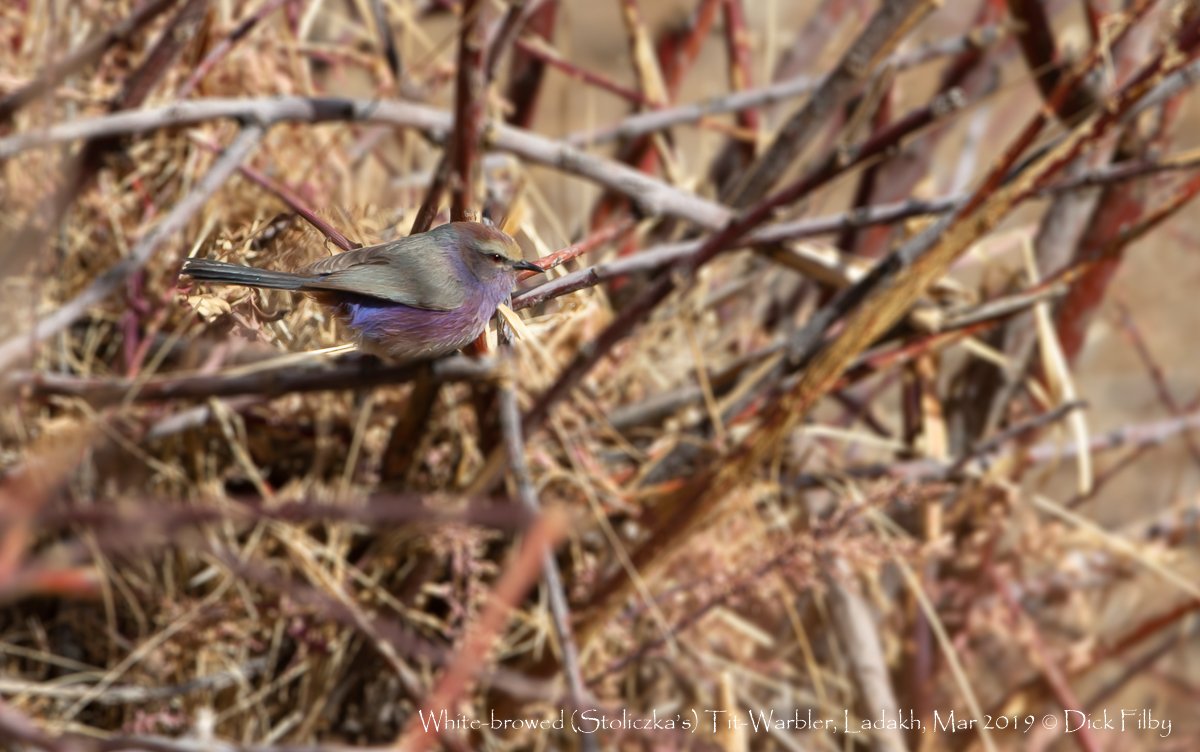 White-browed (Stoliczka's) Tit-Warbler © Dick Filby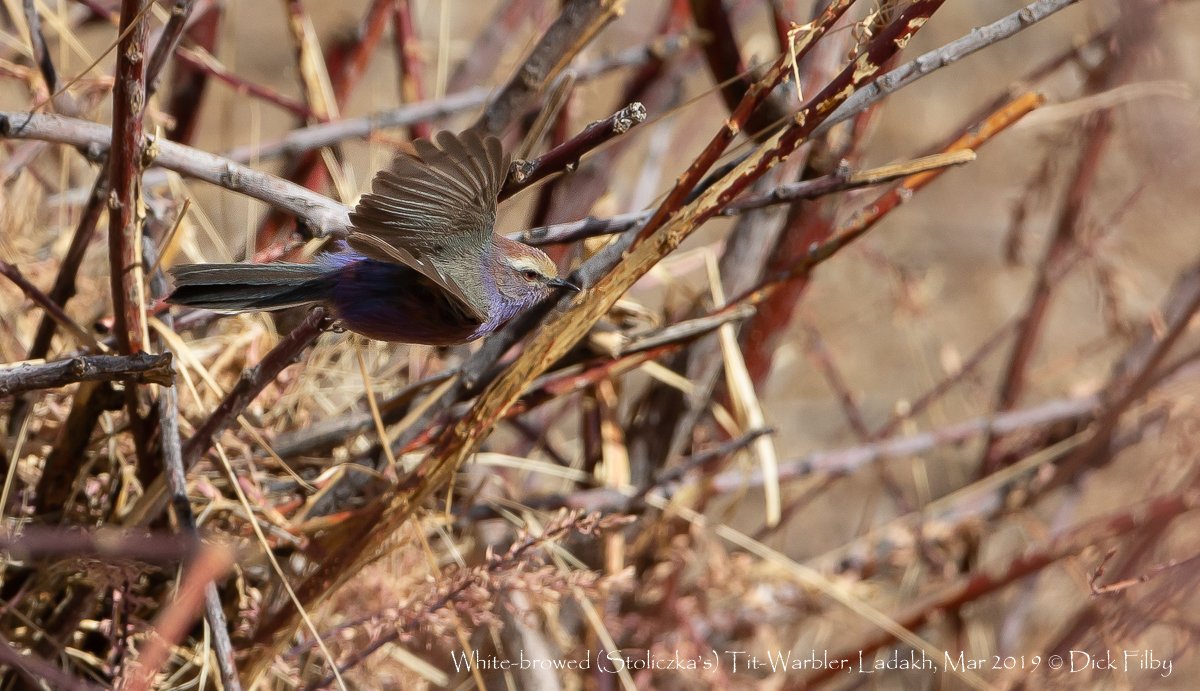 White-browed (Stoliczka's) Tit-Warbler © Dick Filby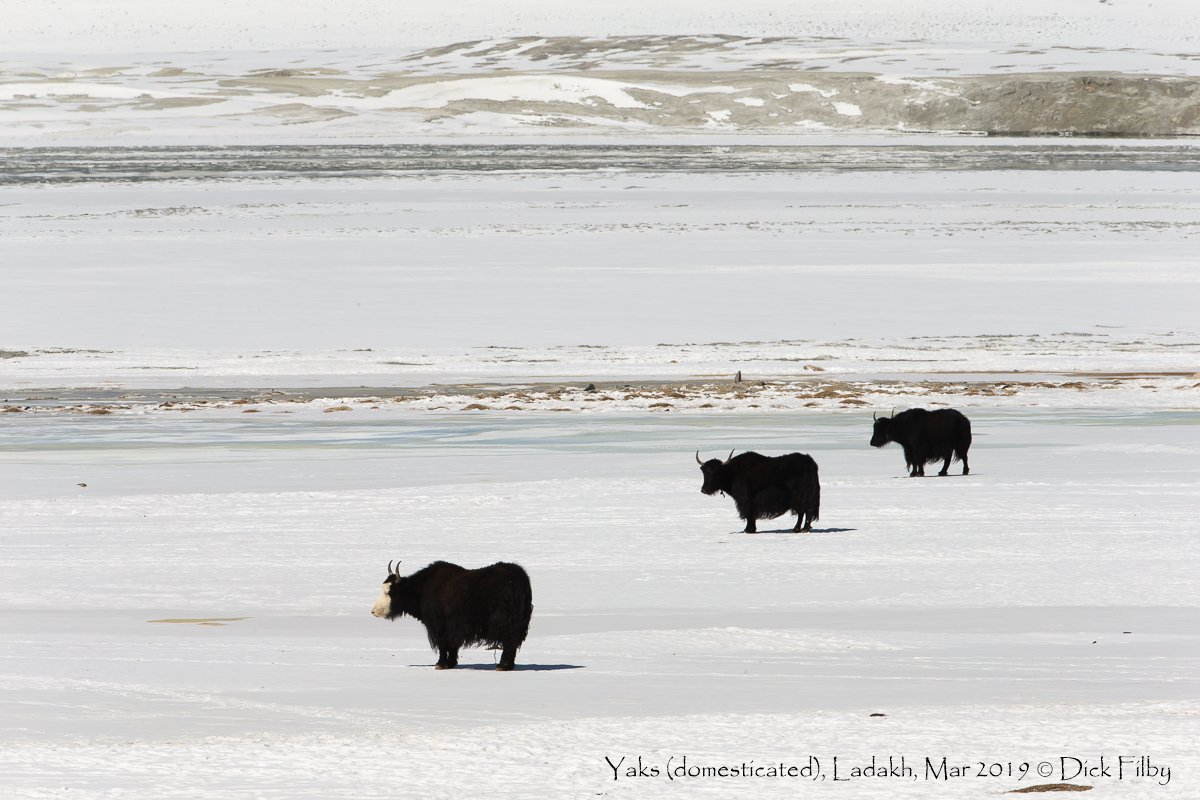 Yaks (domesticated) © Dick Filby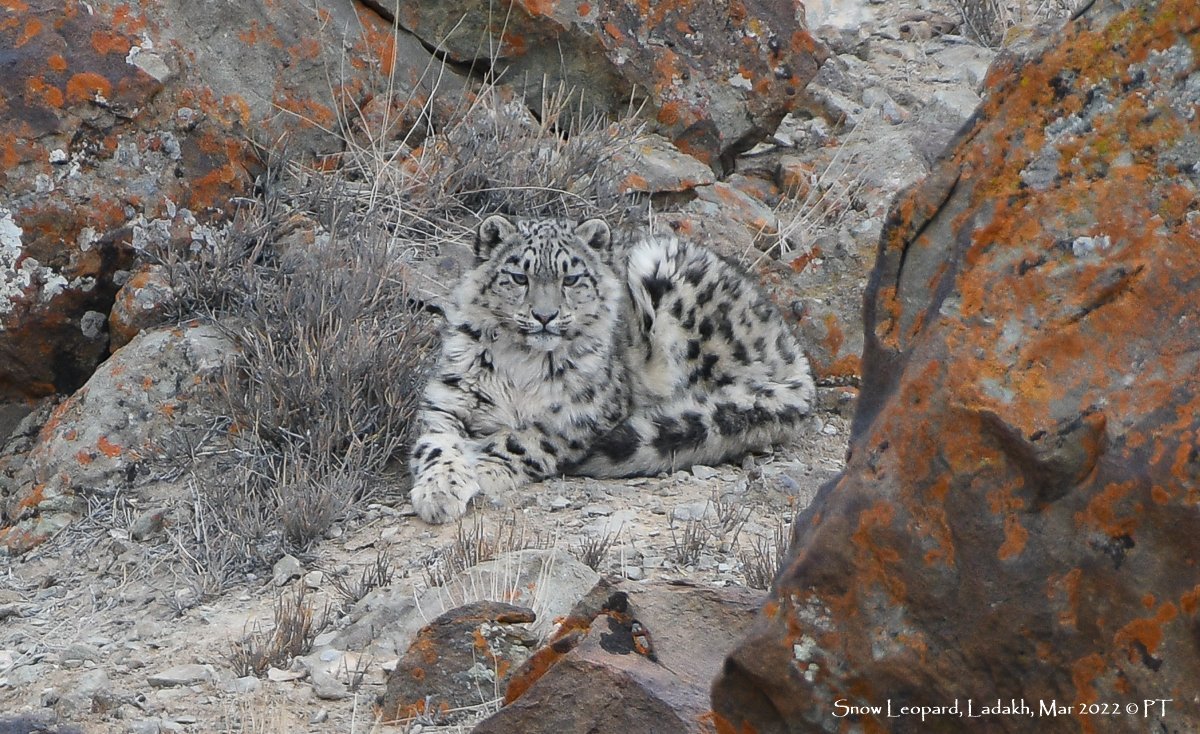 Snow Leopard, Ladakh, March 2022 © PT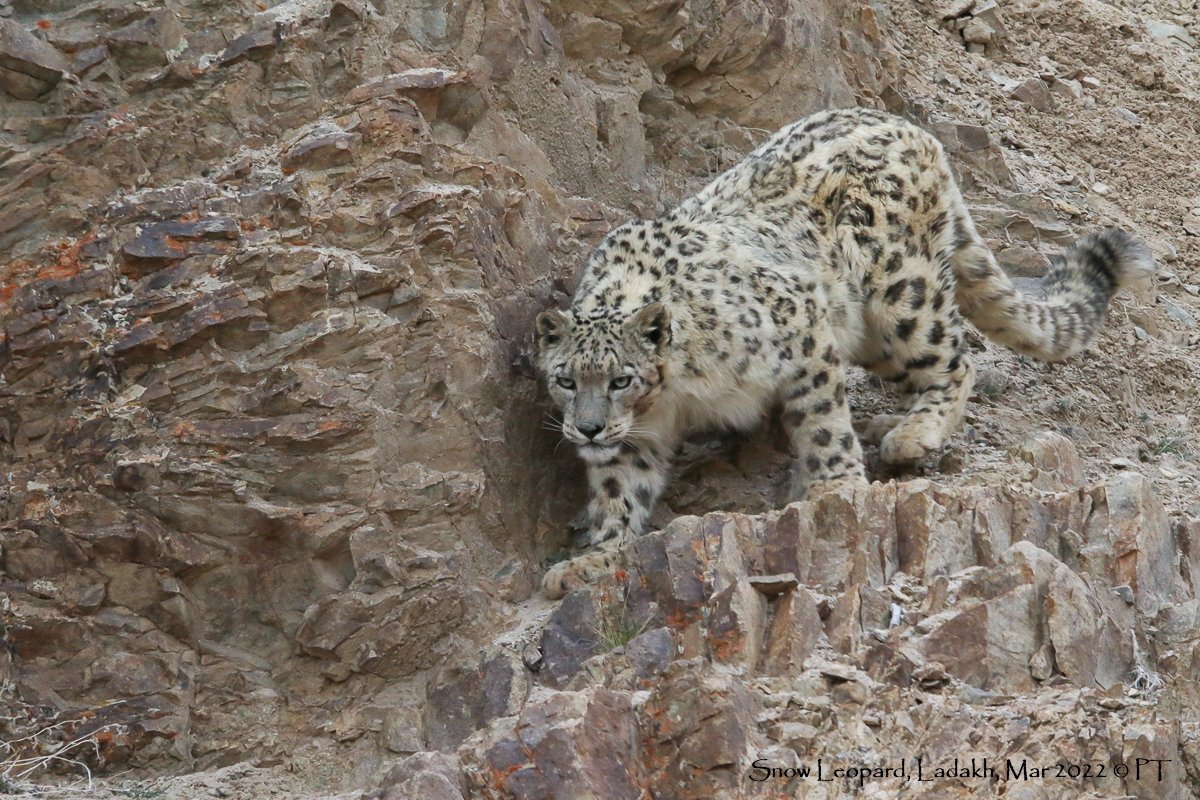 Snow Leopard, Ladakh, March 2022 © PT