David Fairhurst
For as long as he can remember, David has been passionate about birds and wildlife. This has led to a varied 20+ year career in conservation (working largely for the RSPB) and guiding bird and wildlife tours.
His work has taken him to all four corners of the UK, from studying Wood Larks in Dorset to tour leading in Shetland, although he is currently busy setting up the new RSPB reserve near Snape (Suffolk). David has also been involved in some fascinating projects around the world, ranging from studying Griffon Vultures in Israel to restoring fragile ecosystems on the Seychelles.  He has travelled far and wide in pursuit of birds, including trips across Europe, Chile and South Africa.
David now lives on the Suffolk coast with his wife and two young daughters. He is not only an exceptional birder, currently serving as a member of the British Birds Rarities Committee, but an accomplished all-round naturalist with great enthusiasm and humour, as well as excellent leadership and amazing (almost spooky) bird finding skills.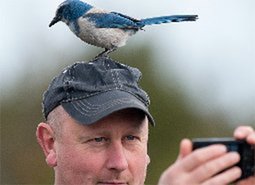 David Fairhurst will be leading on the following tours...